Lenovo posts a 54% rise in profits as sales jump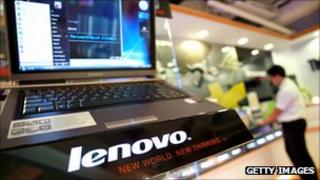 Lenovo, the world's second-largest maker of PCs, has reported a 54% rise in profits on overseas acquisitions and a jump in sales.
Net profit rose to $153m (£96.8m) in the three months ending 31 December.
Lenovo said it saw strong sales in the US and emerging markets, which allowed it to buck the trend in a declining global PC market.
Last year, it overtook Dell to rank second behind Hewlett Packard in global PC sales.
Market share
Beijing-based Lenovo has seen strong growth in recent years due to expanding sales in China, as well as acquisitions in markets such as Germany and Japan.
In the last three months of 2011 it increased its worldwide market share to 14%, up from 10.3%. That put it ahead of Dell, which rose to 12.9% from 12%, according to data collected by the Bloomberg news agency.
Lenovo and Dell were the only companies out of the four top PC sellers to see an increase in shipments in the quarter.
As a whole, the global PC market saw shipments fall 0.2%, compared with the same period the previous year.
Lenovo recently diversified into smartphones and tablet PCs, although it lags behind the market leaders such as Samsung and Apple.
Despite hurdles ahead, the company said it remained confident of future growth.
"Although challenges to worldwide PC demand remain, such as the pace of global economic recovery and the on-going debt crisis in Western Europe, and even a hard disk drive supply shortage and cost increase, Lenovo remains optimistic that its growth momentum will continue," it said in a statement.