News Corp profits swing to growth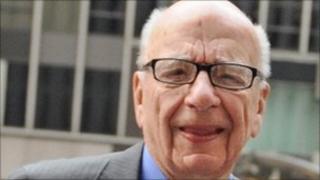 Media giant News Corporation has seen its net profits rise 65% in the three months to the end of December 2011 compared to the same period in 2010.
The rise is the first time that News Corp's profits have grown compared to 2010 since 1 January 2011.
The company made $1.06bn (£888m) net profit in the period, up from $624m in 2010.
The firm's results were fuelled mainly by income from advertising and fees at its cable television networks.
"The significant growth we reported in the quarter in the cable network programming, television and filmed lntertainment segments clearly validates our strategy to develop and distribute superior wide-ranging content," said chairman and chief executive Rupert Murdoch.
Mr Murdoch also mentioned that the firm had completed over half of its share repurchase program.
The repurchasing program was announced after News Corp's bid to acquire the remaining shares in British Sky Broadcasting fell through in 2011 after the emergence of the phone hacking scandal at the News of the World.
The funds set aside for the Sky purchase were diverted into the share buying scheme.
TV, film and sport
Income at News Corporation's US cable television networks rose 9% as the company benefited from the lower cost of broadcast rights to the NBA national basketball league.
The company's cable news network, Fox News saw an 8% rise in revenues
The firm's film division also performed strongly with Alvin and the Chipmunks: Chipwrecked creating over $300m in worldwide sales.
On television, News Corp's sold 25% more advertising around its flagship US programmes, X Factor and The New Girl as well as its baseball and American football coverage.
The firm also saw a 100% increase in the amount it charges other networks to broadcast its content, a move that reflects Rupert Murdoch's strategy of creating revenue around every part of News Corporation's content.
Publishing
One area which saw a decline despite the ongoing use of paywalls, was News Corporation's publishing businesses including the Wall Street Journal and the Times newspaper in London.
The company said the losses were mainly due to lower advertising income from its Australian newspapers and the gap in revenue left by the closure of the News of the World in 2011.
The firm has so far had to pay $87m in relation to the ongoing investigations surrounding the closure of the News of the World.
The News of the World was Britain's biggest selling weekly newspaper up until its closure.
The paper sold nearly 3 million copies every Sunday.