Women facing pensions lock-out, says TUC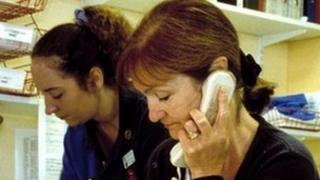 Low-earning women could be frozen out of plans to enrol workers automatically in a pension scheme, the TUC has warned.
The programme, which starts in October, will see eligible employees becoming part of a pension scheme unless they opt out.
Workers will be enrolled only if they earn at least £7,475 a year, but this threshold could rise to £10,000.
The TUC said that this shift could lead to 1.8 million women missing out.
It has called on the government to freeze the earnings level at which auto-enrolment is triggered.
"Whether this is the best way to help the low-paid is an interesting debate, but it would be disastrous if it had the unintended consequence of excluding a significant proportion of women workers from pensions saving," said TUC general secretary Brendan Barber.
Ros Altmann, director general of Saga, told the BBC that women had lost out from the pensions system in the past and were most likely to be among the lowest earners.
About 500,000 male workers could also be affected because they earned between £7,475 and £10,000 a year, the TUC said.
The government has consulted on whether to raise the threshold to bring it in line with the income tax personal allowance, although workers below this level could opt in to a pension scheme.
This would push the threshold up to £8,105, but eventually could rise to £10,000 along with the planned increase in the personal allowance.
This was one option in the government's consultation.
The Department for Work and Pensions said that the consultation had taken place and a decision would be announced soon.
Enrolment scheme
Under the scheme, employees will be automatically enrolled into a pension scheme with employer contributions if they are aged between 22 and the state pension age, meet the earnings threshold and are not already in a scheme that meets minimum standards.
Once enrolled, employees can opt out, but saving in a pension will be the new default setting for anyone who does not express a choice.
Eventually, the automatic level of contributions must be at least 8% of the individual's "qualifying earnings". This includes 3% that must come from the employer. These contributions are being phased in.
Qualifying earnings include payments such as overtime and commission, not just salary. But an individual's first £5,564 of earnings will not count and nor will any earnings above £39,853.
The largest employers will start enrolling workers in October, with others following in subsequent years.