Virgin Media reports £48m profit in fourth quarter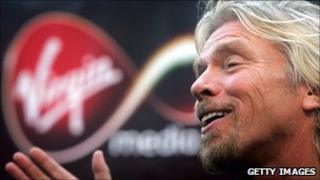 Virgin Media returned to profit in the final three months of 2011.
Strong demand for its new TV service and Virgin's broadband products helped it make £48.2m in the fourth quarter. That compares with a loss in the previous quarter of £73.8m.
Virgin doubled the number of customers subscribing to its Tivo service, which allows customers to schedule TV recordings.
Overall, the company added an extra 15,000 customers.
'Superfast speeds'
"Our strategy of focusing on customers who want more from the digital world is paying off," said Neil Berkett, chief executive of Virgin Media.
The company's results showed annual net income of £76m, the first time Virgin Media has reported a full-year profit.
The firm has been promoting its high-speed internet access, a strategy which Mr Berkett says is paying off.
"Demand for better broadband also continues to grow fast, with around half of new customers choosing superfast speeds," he added.