German exports set record of a trillion euros in 2011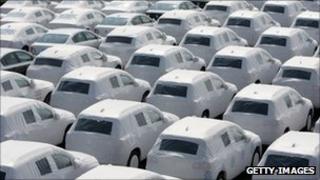 Germany's trade surplus reached 158bn euros (£132bn; $209bn) in 2011 on record exports that rose 11.4% to top 1tn euros for the first time.
The national statistics office also said that imports rose 13.2% to reach an all-time high of 902bn euros.
In 2010, the trade surplus for Europe's biggest economy was 155bn euros.
Meanwhile, the Bank of France has warned that the eurozone's second biggest economy would stagnate in the first three months of 2012.
German exports to countries outside the 27-nation European Union showed the strongest growth last year, up 13.6% to 432.8bn euros.
Exports to other EU countries rose 9.9% to 627.3bn euros. Of those, 420.9bn euros went to the eurozone bloc, an 8.6% rise.
Germany's balance of payments, a broader measure of exchanges with other countries that includes financial transactions, showed a surplus of 136bn euros 2011, down from 142bn euros the year before.
Also on Wednesday, the Bank of France said the country's economy was likely to see zero growth in the first three months of 2012.
The French economy, the second-largest in the eurozone, has posted a trade deficit for 2011 of almost 70bn euros.