Jobs added by employers in January, says REC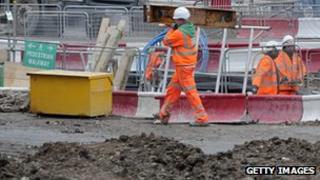 Employers added permanent jobs for the first time in four months in January, according to the Recruitment and Employment Confederation (REC).
The REC said its measure of permanent staff replacements went into positive territory, rising from 48.5 to 51.2.
The survey, which questioned 400 recruitment and employment agencies, showed engineering and construction staff were the most in demand.
But there were fewer positions in the hotel and catering industries.
It was the first time that the index had risen above 50 since September, indicating growth instead of contraction.
"This is the first positive indicator for some time that employers are looking to hire staff despite the ongoing weakness of the economy," said Kevin Green, chief executive of the REC.
"It is particularly encouraging that six out of eight sectors surveyed show growth in demand, including engineering, IT and office professionals."
The REC report, which is also sponsored by accountants KPMG, showed companies' spending on temporary staff fell slightly in January.