BHP Billiton profits fall on lower iron ore prices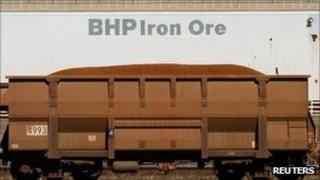 Falling commodity prices have pushed down profits at the world's biggest mining company, BHP Billiton.
The Anglo-Australian company reported a 5.5% annual drop in first-half net profit to $9.9bn (£6.2bn).
It also warned of a volatile outlook due to Europe's debt crisis and slowing demand from China.
The prices of benchmark commodities like iron ore, copper and coal have gradually fallen over the last few months.
During the same period in 2010, BHP recorded profits of $10.5bn, a record in Australian corporation history.
Shares in BHP Billiton fell by 1.1% in early trading in Sydney.
Since the start of the year its shares have risen by 11%, outperforming the broader Australian market.
The results come after rival miner Xstrata formally announced plans to merge with Glencore, the world's biggest commodity trader, in a $90bn deal.
'General weakness'
Despite the fall in profits in the most recent period, revenues increased by 9.7% over the same period to $37.5bn.
"We expect volatility in commodity markets to persist as the European sovereign debt crisis and general weakness in the manufacturing and construction sectors... are expected to weigh on customer behaviour and sentiment," the company said in a statement.
It added it would stick to its timetable of spending $80bn on significantly expanding its operations by 2015.
One area where BHP Billiton is looking to increase its activities is in the oil and gas markets.
Last year it bought the US shale gas firm Petrohawk for $12.1bn (£7.5bn), its largest acquisition to date.
However analysts say the focus on natural gas could hurt BHP Billiton's profits for some time, as US gas prices have almost halved since last June.
Meanwhile, rival Anglo-Australian miner Rio Tinto said it will pump a further US$3.4bn into expanding iron ore operations in the Pilbara region of Western Australia.
It wants to increase operations in the Pilbara by 50%.
"We believe we have the best quality iron ore expansion projects anywhere in the world," said Rio executive Sam Walsh. "They are high return, low-risk investments that are highly value-adding for shareholders.