Yahoo board shake-up as chairman and others leave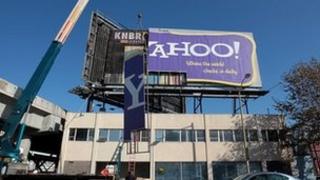 Yahoo's chairman and three other board members are leaving as the tumult at the US web portal continues.
Chairman Roy Bostock - who was in charge when Yahoo rejected a $47.5bn (£31bn) takeover offer in 2008 - will step aside in this latest shake-up of the board.
Yahoo has struggled to keep up with rivals such as Google.
It recently appointed Scott Thompson, head of online payments firm Paypal, as its new boss, the fourth in five years.
He will fill the vacancy left by Carol Bartz, who was dismissed as chief executive in September after failing to turn around the company's fortunes.
Last month, Jerry Yang, Yahoo's co-founder, resigned from its board.
It rejected an offer from Microsoft to buy up the company at $33 a share. Mr Yang was in charge at the time.
Yahoo's share price has stagnated at about $15 ever since late 2008, refusing to go above $20.
Revenues at the firm have also stagnated, particularly compared with leading search engine Google, and Yahoo has had to lay off workers four times over the past three years.
'Potential partners'
Mr Bostock is leaving along with Vyomesh Joshi, Arthur Kern and Gary Wilson.
"We have pursued a wide range of discussions with potential partners," Mr Bostock said in a statement.
"We have engaged with potential investors and reviewed proposals concerning an equity investment in the company, although at this time there have not been any proposals which have been deemed by the committee to be attractive to our shareholders."
He added that Yahoo was in "active discussions with our partners in Asia regarding the possibility of restructuring our holdings in Alibaba Group and Yahoo Japan".
The US firm's key products, beside its search engine, include photo sharing site Flickr and its webmail platform.