Cisco sees profits rise over 43%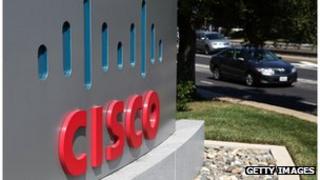 Technology giant Cisco, saw a 43.5% rise in net profits to $2.2bn (£1.3bn) for the three months to 28 January 2012, compared with the same period in 2011.
Cisco's results come after a prolonged period of cost-cutting, which saw the firm shed more than 6,000 jobs in 2011.
Cisco increased its dividend by two cents to eight cents per share.
Shares in the firm rose 2.4% in after-hours trading to $20.93, as the results beat analyst expectations.
"Broadly speaking, people expected a good quarter. This is probably a little better than expected and the dividend is an added surprise," said Joanna Makris at Mizuho Securities.
"We are executing well on our three-year plan to drive earnings faster than revenue," said Cisco chief executive John Chambers.
"Our operational focus continues to yield positive results, we hit our billion dollar expense reduction a quarter early, and our ongoing innovation enables our customers to solve their critical business needs."