Would you vote for a 13.5% pay cut?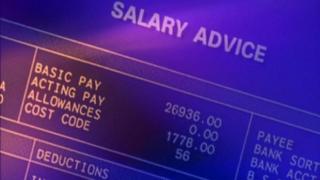 How would you like it if your employer asked you to accept a 13.5% pay cut?
That is what 550 staff at one of the UK's biggest magazine printing companies have voted to accept in a secret vote.
The firm is the Goodhead Group, owner of the printing firm BGP in Bicester and Stones in Banbury, with a mailing business in Buckingham.
The firm is owned by the Sir John Madejski, more well known as the owner of Reading Football Club.
David Holland, the firm's chief executive, says life has become so tough for big printers like his that pay cuts are the only alternative to job cuts if the company has any hope of restoring itself to profitability.
"We need to cut our wage costs to be self-supporting. The company has lost £69m in the last five years. We have reduced our losses each year but the biggest problem now is a very depressed market price," Mr Holland says.
"We don't have any problem with productivity or quality or being over-manned - we don't want to make people redundant.
"The only thing left are basic rates of pay, to bring them in line with the market until things in the marketplace improve," he adds.
Mr Holland himself will take a pay cut of 20%.
Staff 'disappointed'
Mr Holland says the average cost of employing his staff is £36,000 per head, including national insurance and pension contributions.
That means their average annual salary is probably about £30,000, so a 13.5% cut will mean a reduction of £4,050.
Mr Holland admits his staff were "disappointed" when he first told them of the company's proposal early in January.
He consulted them over several weeks, via meetings and a 21-person staff committee.
"It was agreed we would put to the workforce a suggestion that basic rates would be cut by 13.5%," says Mr Holland.
The cut will now come into effect on 1 April.
The only staff protected will be those on less than £15,000 a year, and no-one will see their pay fall below that level.
Changed times
Once upon a time, a pay cut of any sort would have been unthinkable in the printing industry.
It was once a byword for strong trade unionism, and printers were traditionally among the highest-paid blue-collar workers in the country.
I once knew a printer on the Daily Telegraph who told me, back in 1979, that his wages were £25,000 a year - the equivalent of nearly £100,000 now.
How things have changed.
According to the Annual Survey of Hours and Earnings (ASHE) - conducted by the Office for National Statistics and based in individuals' tax returns - the average full-time wage in newspaper printing was £46,055 last year.
That was a rise of nearly 8% on 2010.
However full-time workers in other parts of the printing industry earned far less last year, just £28,821 on average, after a rise of 6.4% in total earnings.
Marginalised union
Where is the union in the midst of this vote at Goodhead? On the periphery.
These days print workers are typically members of Unite, but its membership has dwindled at BGP and Stones to about 90 members - just 16% of the workforce.
Such a low membership would also once have been unthinkable in a big printing firm.
Tim Elliott, regional officer for Unite, admits activism among his members at the company has died away in recent years as staff have left, leaving the union without any local representatives or active organisation.
"The union organisation there has broken down over the years [but] we are arguing that we have never been derecognised," Mr Elliott says.
"We wrote asking to talk about these alterations to people's contracts of employment - they just said 'No'."
"This is a huge wage cut," he points out.
'Go ahead'
Rather than threaten industrial action, the union is threatening legal action.
It says it still has a recognition agreement with BGP and Stones and the firm's recent consultation is illegal as the union has been sidestepped.
Unite is threatening to take the firm to an employment tribunal for what is called a protective award, in other words damages on behalf of its members, a tactic it has used successfully elsewhere.
Mr Holland's response is brusque.
"Go ahead, we are quite prepared for that," he says, arguing the union will be wasting its money.
He says the two sides have had nothing to do with each other for about seven years, with no collective bargaining or recognition in force during that time, and as such the old agreement has withered away.
What chance does Unite have of winning its claim?
Martin Edwards, a leading employment lawyer at the legal firm Weightmans, says: "To establish that it is recognised by the company, the union is likely to need to show it still has a right to negotiate with management.
"This right may be based on a valid written agreement, or by a clear course of conduct.
"If the union allows the agreement to be ignored for several years, it may run the risk that the court finds that the agreement was implicitly brought to an end, perhaps by mutual consent," Mr Edwards adds.
Saving jobs?
Mr Holland points out that one of his biggest competitors in magazine printing, Walstead Investments, cut pay by between 10% and 20% at three of its printing plants last year.
But such tactics are very uncommon.
"They have been so rare, we have not collected any facts or figures on them," says Alastair Hatchett of the pay research organisation Incomes Data Services (IDS).
When the banking crisis triggered the last recession in 2008 and 2009, pay freezes became commonplace in the private sector but have now dwindled away.
IDS says private sector pay rose on average by 2-3% last year.
In some sectors like car manufacturing, which has had an export boom, pay increases have been even bigger.
"There have been many freezes negotiated to save jobs, though it is not clear if they have in fact saved any jobs," Mr Hatchett observes.