ArcelorMittal promises improvement after quarterly loss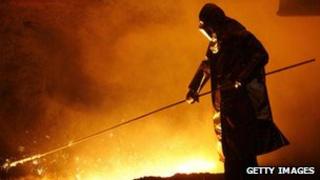 ArcelorMittal has reported a loss for the final three months of last year, but is forecasting better times ahead.
Several one-off charges, including the closure of plants, resulted in a loss of $1bn in the fourth quarter.
Weakness in Europe, where it mothballed nine of its 25 plants, contributed to a 22% slump in full-year profit to $2.3bn.
But Arcelor expects a rebound this year, with its iron ore and coal mining operation expected to grow by 10%.
"Looking ahead to 2012, the situation in Europe remains a live concern," said the company's chairman and chief executive, Lakshmi Mittal.
"Despite the continued uncertainty in this market, however, we are seeing an improvement in sentiment compared with the fourth quarter."
As well as expanding its mining operations, the company is hoping that further cost cuts will boost profitability.
Arcelor aims to reduce costs by $800m this year.