German industrial production falls sharply in December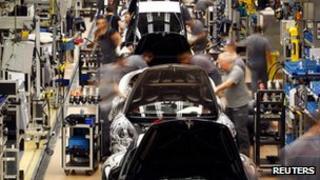 German factories recorded a surprise drop in production during December, figures have shown.
Industrial production fell 2.9% in December from November. Economists were expecting output to remain steady.
It is the biggest drop in production since January 2009, when the global economy was gripped by the financial crisis.
Economists say that Europe's debt crisis is hitting orders for German products.
In a research note, Capital Economics said: "December's drop in German industrial production was a serious blow to hopes that the economy might be recovering."
But other recent economic reports have suggested that the final months of last year could have been the low point for the German economy.
Data released on Monday showed that orders for industrial goods rose by 1.7% in December, thanks to strong demand from overseas.
And a closely watched survey of business sentiment showed that confidence among Germany businesses hit a five-month high in January.