Toyota raises profits forecast as recovery continues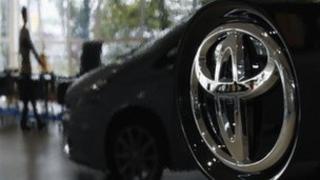 Carmaker Toyota has increased its full-year profits forecast, saying its recovery is on track following the impact of the Japanese tsunami, Thai floods and the strong yen.
The firm made a 80.9bn yen profit ($1.05bn; £660m) between October and December, a fall of 13.5%.
But it raised its annual profit forecast to 200bn yen from 180bn yen as it continues efforts to cut costs.
It also increased its annual sales forecast to 7.41 million vehicles.
Toyota had previously estimated sales of 7.38 million for the year to 31 March.
The firm has started a second shift at its US plant in Mississippi, where it makes the Corolla, as it ramps up production.
"Toyota remains committed to pursuing an improvement of its earnings structure through various cost reduction activities as well as continuing the production recovery from the Japan Earthquake and floods in Thailand," said Toyota senior managing officer Takahiko Ijichi in a statement.
In 2011, Toyota lost its crown as the world's largest carmaker. Its total sales of 7.95 million vehicles - down 8% - put it behind General Motors, with 9.03 million and Volkswagen with 8.16 million.
The firm estimates the disruption caused by last year's floods in Thailand, where it manufactures components, cost it 240,000 cars in lost output, just as it had begun to recover from the impact of March's tsunami.