India aviation sector rescue plans unveiled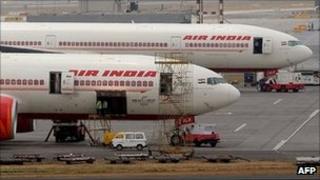 India has set out plans to allow aviation firms to import jet fuel directly, as part of a package aimed at bolstering the ailing air industry.
A ministerial panel also recommended debt restructuring for Air India and that foreign firms could take a stake of up to 49% in Indian carriers.
The measures will now go to the cabinet for final approval.
Five of India's six main airlines are loss-making. They have been particularly badly hit on fuel price.
Analysts say the import proposal could save them up to 20% on fuel costs.
Share prices in airlines soared on the news, with Kingfisher up 20%, SpiceJet 19% and Jet Airways 16.8%.
Bond issue
The Group of Ministers meeting, held in Delhi, was headed by Finance Minister Pranab Mukherjee.
Aviation Minister Ajit Singh said that "companies will be allowed to import fuel directly for their use. This has to go to the cabinet. The Group of Ministers has approved this. We will try to see whether some kind of credit arrangement can be made."
The fuel move will cut the tax burden for the airlines.
The carriers at present must buy from oil marketing companies and are subject to a number of levies.
Mr Singh also said that Air India would be allowed to issue 74bn rupees ($1.5bn) through bonds and other means as part of a restructuring package.
The cabinet must also decide on whether to allow foreign airlines to buy stakes of up to 49% in India's airlines.
Correspondents say that allowing foreign investment will bring much-needed cash for the ailing carriers.
Mr Singh has admitted the aviation sector is in a "rough patch".
Last week oil firms halted supplies to Air India for four hours, saying they had not been paid.
Air India has been making heavy losses and its debt burden has been raising increasing concerns about its long term viability.
Kingfisher Airlines recently announced significant losses and shut its budget carrier, Kingfisher Red, last year.
A recent internal report also raised finance-related safety concerns over Kingfisher Airlines and Air India Express.
Both strongly defended their safety standards.