Tui Travel gets boost from UK bookings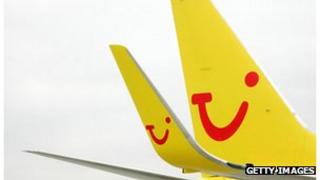 Europe's biggest travel group Tui Travel has reported steady holiday bookings from UK consumers, outperforming rivals in the process.
Tui said UK bookings in January were unchanged from a year earlier, whereas bookings across the industry fell 14%.
Tui appears to be benefiting from problems at rival Thomas Cook, which had to secure fresh funding last year.
However, Tui reported a £158m loss for the final quarter of 2011, compared with a £143m loss a year earlier.
Holiday firms often make losses in the winter months as the summer is the peak holiday period. However, Tui said losses in the quarter had increased because of a drop in bookings for holidays to North Africa, where unrest in destinations such as Egypt and Tunisia had affected demand.
The floods in Thailand also affected bookings.
"TUI Travel's results show an increase in first quarter losses and, while the market can take some comfort from UK summer bookings down marginally less than the capacity reductions, the long-term outlook for the industry is concerning," said James Hollins at Investec securities.
Struggling rival Thomas Cook will also issue a trading update on Wednesday. It is closing 200 UK branches over the next two years as part of attempts to turnaround its UK business.
In response to reports last month that bookings in the UK had fallen by more than a third in the first two weeks of the year, Thomas Cook said its order book overall was "ahead of the market".
It said January bookings would be down because of weak consumer sentiment and planned capacity cuts. They would also be lower than the previous January when it carried out a promotional campaign.