India court panel recommends repeal of mining licences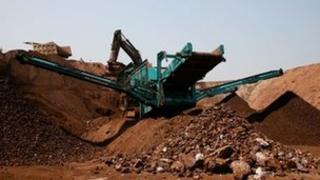 A panel appointed by India's Supreme Court has recommended that licences of as many as 49 iron ore miners in the state of Karnataka should be cancelled.
The Central Empowered Committee (CEC) has accused them of indulging in illegal mining activities.
The panel said 72 other miners should be fined for operating mining pits and burden dumps outside sanctioned areas.
Last year, the Supreme Court suspended all mining in the state's Bellary district due to illegal mining.
"The extent and level of unauthorised, unregulated, environmentally unsustainable and illegal mining in its various facets has no other parallel in the country," the CEC said it is report.
'Blatant connivance'
Illegal mining in Karantaka, which produces about 45 million tonnes of iron ore per year, has been in focus for some time and has become a hot political issue.
According to some estimates such activities in the state cost the exchequer more than $3bn (£1.8bn) between 2006 and 2010.
The CEC has blamed authorities in the state for playing a part in the illegal operations.
It said that illegal mining and transport of iron ore "had become possible because of the blatant connivance of officials and public functionaries".
Last year, BS Yeddyurappa, the then chief minister of Karantaka, resigned after an anti-corruption panel indicted him in a mining scandal.
That was followed by the arrest of G Janardhana Reddy, a former minister in the state and a mining businessman, who was charged with forgery and violation of forest and mining laws.
Both have denied any wrongdoing.