HTC profits rise but sales set to fall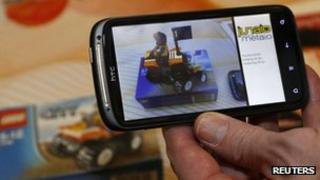 Taiwan smartphone maker HTC has posted a jump in profits, but says recent sales have been hit as it faces tougher competition from rivals such as Apple's iPhone and Samsung's Galaxy range.
It reported post-tax profits of 61.98bn Taiwan dollars ($2.1bn; £1.33bn) for 2011, up 57% on the previous year.
Annual sales rose 67% to NT$465.8bn, despite a 20% sales fall in December.
However, it expects sales in the first three months of this year to drop by more than a third.
The firm has struggled to keep pace with rival smartphones, and it plans to launch four new models at the Barcelona Mobile World Congress later this month.
It expects sales to fall in the first quarter to fall by as much as 36% to between NT$65bn and NT$70bn, down from NT$101.42bn in the previous three months.
HTC added 1,000 new engineers to its ranks in the last year in a bid to keep its smartphone range competitive.
Peter Chou, chief executive of HTC, said: "While short-term performance may not meet the results as expected, we have gained further experience and advancement in the areas of brand management and product innovation.
"These fundamental strengths and the groundwork we have laid will take us into 2012 with a renewed focus and determination."