Euro crisis could almost halve China's growth, IMF says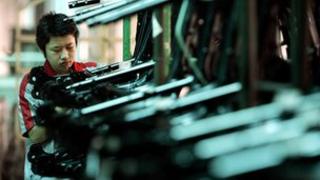 A eurozone recession could almost halve Chinese growth this year, according to the International Monetary Fund (IMF).
The IMF forecasts China's economy will grow by 8.2% this year - but warns that a recession in the eurozone could cut this to 4.2%.
It said Beijing should get ready to inject billions of dollars into the economy to fend off any downturn.
China's economy grew by 9.2% in 2011, but growth was slowed by Beijing to avoid over-expansion.
The IMF's report comes as Greece enters another day of crisis talks aimed at finalising a 130bn-euro (£108bn; $171bn) European Union bailout.
Athens needs the money by mid-March to avoid default on its debts.
Room for manoeuvre
In its report, the IMF said: "China's growth rate would drop abruptly if the euro area experiences a sharp recession.
"However, a track record of fiscal discipline has given China ample room to respond to such an external shock."
The government should cushion the impact of a deeper slowdown with measures including tax cuts that amount to about 3% of gross domestic product, the IMF said.
It also noted that inflation had reached more comfortable levels by the end of 2011 and may continue to slow steadily in the first few months of this year.
The outlook expands on the IMF's warning last month that the world could plunge into another recession if Europe's financial crisis deepens.
IMF chief Christine Lagarde said last month that the world faced "an economic spiral reminiscent of the 1930s" unless the eurozone crisis was resolved.
Chinese leader Wen Jiabao reiterated last week that his government would "fine-tune" policies to support growth amid the eurozone's debt crisis.