Greece in 'tough' talks with international lenders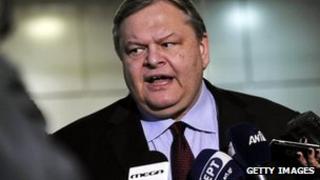 Greece has held further talks with its international lenders, as discussions continue on more austerity measures.
Finance Minister Evangelos Venizelos said the negotiations in Athens were "so tough that as soon as one chapter closes another opens".
He was speaking after meetings with EU, International Monetary Fund and European Central Bank delegates.
Negotiations between Greece's coalition parties on new austerity measures have been delayed until Tuesday.
Mr Venizelos went on to criticise the political parties for not reaching a deal with the nation's benefactors.
"Instead of looking at this tragic dilemma... there are many who spend their effort on a conventional, outdated, party confrontation as if nothing has happened.
"Sadly, we are distracted and we are not telling the Greek people the truth," he said in a statement.
Two of the largest public unions are going on strike on Tuesday as well, reflecting widespread opposition to the current cuts.
French President Nicolas Sarkozy said time was running out for a deal.
"Greece's leaders have made commitments and they must respect them scrupulously," he told a press conference in Paris.
"Europe is a place where everyone has their rights and duties. Time is running out, it needs to be concluded, it needs to be signed."
Greece was bailed out once in 2010 and again last year by the EU and IMF.
Athens needs money from the latter bailout - 130bn euros (£108bn; $171bn) of funds - and help from private lenders to avoid a debt default.
The country faces loan repayments to private lenders of 14.4bn euros on 20 March, but it cannot currently afford to pay.
A European Commission spokesman said Greece was already "beyond the deadline" to end the talks.
Austerity measures
On Monday, Greece agreed to pass a new law allowing more government employees to be fired - it is likely to lead to 15,000 civil service jobs being cut.
But Public Sector Reform Minister Dimitris Reppas said he was "opposed to indiscriminate firings".
"The workforce reduction is strictly connected with the restructuring of services and organisations at each ministry.''
Talks on Sunday between Greek Prime Minister Lucas Papademos and the leaders of his three-party coalition over new austerity measures ended without full agreement.
The measures include further government spending cuts equal to 1.5% of GDP, the re-capitalisation of Greek banks whilst retaining their independence, reducing labour costs - including a cut in the minimum wage and holiday bonuses - and cuts to the size of pension programmes.
Crisis jargon buster
Use the dropdown for easy-to-understand explanations of key financial terms:
AAA-rating
The best credit rating that can be given to a borrower's debts, indicating that the risk of borrowing defaulting is minuscule.
On Sunday, the prime minister's office said that some agreement had been reached in some areas. But there were disagreements over the size of job cuts, cuts to the minimum wage, pension cuts and the ending of a so-called 13th or 14th month's pay as a holiday bonus.
Government sources told the BBC's Athens correspondent, Mark Lowen, that there was the outline of an agreement on cutting the minimum wage, currently about 750 euros a month, by 20%. Holiday bonuses that had been under threat, would be kept, the sources suggested.
'Pending deaths'
Unions and employers' groups have resisted pay cuts, with the two largest unions calling for a day-long strike on Tuesday.
Iannis Panagopoulos, leader of the GSEE private-sector union, was reported as saying proposed 20-30% cuts in private sector wages "chronicle a pending death".
Anti-austerity protests were also expected to take place on Monday evening.
The discussions come as the EU's statistics office reported Greece's debt spiked to 159.1% of gross domestic product in the third quarter of 2011 - up from 138.8% a year earlier and 154.7% in the second quarter.