Greece talks over EU bailout end without agreement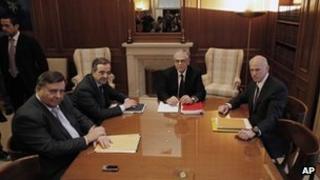 Party leaders in Greece's ruling coalition have ended talks on backing a proposed 130bn euros ($171bn; £108bn) EU rescue plan without agreement.
Prime Minister Lucas Papademos was seeking the three party chiefs' support for reforms demanded by the IMF and EU as a condition of the bailout.
Mr Papademos had hoped to reach a deal with the leaders by Sunday night, but talks will now resume on Monday.
The money must be in place by mid-March if Athens is to avoid a debt default.
Eurozone ministers had hoped to meet on Monday to finalise the bailout - Greece's second - but that meeting had already been cancelled.
"Political leaders should give a response in principle tomorrow [Monday] afternoon," Socialist Party (Pasok) spokesman Panos Beglitis told Reuters news agency.
The leaders of the other two parties in the coalition said after the end of Sunday's talks that they were still opposed to further austerity measures.
"I am not going to contribute to a revolution that will humiliate us and that will burn Europe", said Giorgos Karatzaferis, leader of the far-right Laos party.
Antonis Samaras, leader of the conservative New Democracy party, said the country was "being asked for more austerity, which it is unable to bear," AFP reports.
However, the BBC's Mark Lowen in Athens reports that Mr Papademos's office has put out a statement saying some agreement was reached on the reduction of public spending by 1.5% of GDP, and on bank recapitalisation.
But there was no agreement on cuts to the minimum wage or to holiday bonuses, he said.
There seems to have been a meeting of minds on some issues, but it remains to be seen whether this is enough to convince the EU and IMF that Greece is committed to reform and to release the bailout funds, he adds.
Greece cannot afford to lose the bailout package and a lot now rides on these talks.
Athens faces loan repayments to private lenders of 14.4bn euros ($19 billion) on 20 March.
'Great pressure'
EU officials have expressed frustration with Greece over delays in backing the terms of the latest rescue package, which is being put together by the European Union, the International Monetary Fund and the European Central Bank - the so-called "troika" of lenders.
Reforms that international lenders want to see include a lower minimum wage, the removal of a "13th and 14th month" extra salary which is paid to workers as an annual bonus, and the liberalisation of workplace regulations.
Opponents say that more cuts will worsen living conditions which have already been affected by two years of austerity measures.
Unless Greece promises to implement reforms, the eurozone ministers say Greece will not be able to go ahead with a plan to restructure its privately-held debt.
Greece has prepared a debt plan with private creditors to halve the value of Greek debt and in return receive new, 30 year bonds with an average interest rate of less than 4%.
The restructuring is to help cut Greek debt to 120% of GDP in 2020 from 160% now.