More than one million will face tax fine, says HMRC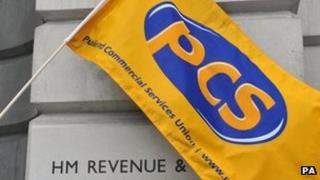 Just over one million taxpayers face a penalty of £100 for failing to submit their self-assessment tax returns on time.
The figure of 1.1 million is the lowest since online filing first started, and compares with 1.4 million last year and 1.6 million the year before.
HM Revenue and Customs allowed an extra two days' grace beyond the normal 31 January deadline due to strike action.
However, 1.1 million people failed to file by the end of 2 February.
They will have to pay the £100 fine unless they have a reasonable excuse.
Valid reasons include serious illness, a bereavement, or a loss of documents because of theft, fire or flood.
After three months, additional fines of £10 a day start to accrue and could eventually amount to a maximum of £1,600.
Record numbers
Self-assessment tax forms have to be filled in by people with more complicated tax affairs or more than one source of income, for instance the self-employed or those with a high income from savings.
The latest forms were for the tax year which ended in April 2011 and altogether a record 9.45 million forms were submitted on time.
About 1.8 million had come in on paper by the paper deadline of 31 October 2011.
A further 7.65 million were submitted online - another record.
The public sector union, the PCS, held industrial action at call centres and inquiry offices to protest against the appointment of private companies to run call-handling trials in two contact centres.
This led to the self-assessment deadline being extended.
David Gauke, Exchequer Secretary to the Treasury, said: "I'm delighted so many people filed their tax returns online this year. The record number proves that it's quick, easy and secure to do."
"HMRC have always been clear that they want returns not penalties, so it is good news that over 90% of all returns were submitted on time," he added.
New punishment
In previous years a fine for late filing, or for failing to pay any tax due, could not in fact be applied if the size of the fine was larger than the amount of tax owed.
So in practice some late-payers escaped punishment because they had little or no tax to hand over.
HMRC has become increasingly fed up with this hard core of persistent late-payers, hence last year's change to the rules - which has come into effect for the first time this year.
The £100 fine will now be levied automatically, unless the taxpayer can come up with a reasonable excuse.