UK service sector sees strong growth, PMI figures show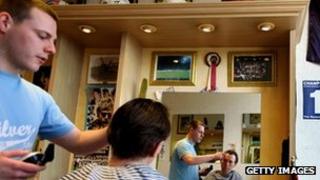 The UK's dominant service sector grew at its fastest rate since March 2011 in January, according to a key survey.
The Markit/CIPS services purchasing managers' index (PMI) rose from 54 to 56. Any figure above 50 indicates growth.
Markit also reported the biggest monthly rise in business optimism since the survey started 15 years ago.
The data will reduce fears of a new recession, following a contraction in the economy at the end of last year.
An increase in new business also drove employment in the sector to rise at its fastest pace since March 2008, the survey found.
The service sector accounts for more than 70% of the UK's economic output.
Recession 'unlikely'
"All [this] points to a resounding revival of UK economic growth in January," said Chris Williamson, chief economist at Markit.
"A slide back into recession is now looking increasingly unlikely. The economy could well expand at close to trend rate - around 2-2.5% per annum - in the first quarter if business conditions hold up in the next two months," he added.
The data follows a similar survey showing the UK's manufacturing sector returned to growth in January, with overall activity at its highest level for eight months.
The results will be closely analysed by the Bank of England when it meets next week.
Risks
The Bank had been expected to expand its quantitative easing programme to provide extra credit to the economy.
"The recent upturn in some of the key indicators should make for an interesting policy debate at next week's Bank of England meeting," said Philip Shaw from Investec.
"Our feeling is that there are still big downside risks out there. And the BoE's own inflation forecast is so low in the medium term, it would take a big shift to the upside to remove the case for more easing," he said.
However, the data contradicts the latest forecast from the National Institute of Economic and Social Research (NIESR).
The think tank predicted the UK economy would shrink by 0.1% in 2012.