Eurozone service sector grows after four-month lull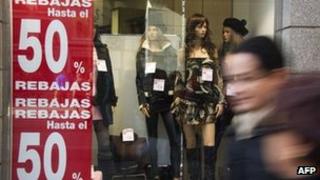 The eurozone's service sector has grown for the first time in four months, although Spain and Italy have continued to post falls in business activity.
The Markit eurozone services purchasing managers' index (PMI) was 50.4 in January, up from 48.8 in December. Any score under 50 represents a contraction.
It follows a manufacturing survey of 48.8, up from 46.9 in December.
Markit said the survey suggested a recession could be kept at bay.
Chris Williamson, chief economist at Markit said: "The final eurozone PMI data indicates that business conditions stabilised following declines seen in the final four months of last year and that the region may avoid a slide back into recession."
The two surveys helped improve the composite index for January, which includes services, construction and manufacturing, increase to 50.4 from 48.3 in December.
'Slower decline'
The survey also found an increasing gap between the stronger eurozone economies, such as Germany, and weaker countries such as Spain.
The survey found growth hit a seven-month high in Germany and a five-month high in France, while ongoing downturns were seen in Italy, Spain and the Irish Republic. However, the rates of decline fell for Spain and Italy.
Mr Williamson added: "Confidence may have risen but remains very low by historical standards of the survey, linked to the fact that inflows of new business continued to fall and that lower prices often had to be offered to win sales, which will dent profit margins.
"The region's debt crisis is also by no means resolved, and any setbacks in current negotiations could easily cause confidence to slump again."