Panasonic predicts record annual loss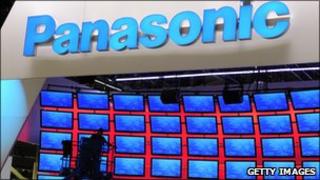 Japanese electronics giant Panasonic has forecast a record annual net loss of 780bn yen ($10.2bn; £6.3bn) for the year to March.
The poor result is being put down to the strong yen, flooding in Thailand and acquisition costs.
It comes after rivals Sony and Sharp predicted combined losses of $6.7bn.
Panasonic posted a net loss of 333.82bn yen for the nine months to December, compared with a 114.7bn yen profit a year earlier.
For the third quarter it posted a net loss of 197.6bn yen.
The figures were worst than analysts had been expecting.
Panasonic and other Japanese exporters are being hit by the strong yen, as well as competition from foreign rivals such as South Korea's Samsung.
The Japanese firm is the world's fourth-largest television manufacturer after Samsung, LG Electronics and Sony.
Shares in Panasonic have fallen by 45% in the past year and hit their lowest close in more than 30 years on Thursday