Pilkington plans to close one of its three UK lines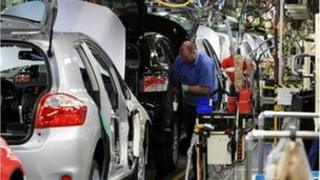 The owner of the glass manufacturer Pilkington, Nippon Sheet Glass (NSG), says it will close one of its three UK production lines as it cuts costs.
The move is part of NSG's plans to cut 3,500 jobs worldwide. The company employs 3,000 people in the UK.
NSG, Japan's second biggest glass maker, bought Pilkington in 2006. It did not specify which line would close.
The company, which makes 40% of its sales in Europe, demand for building and automotive glass drop sharply.
It is aiming to cut costs by 20bn yen ($262.5m, £166m, 199m euros) annually as it now faces losses of 3bn yen for the year to March - a sharp turnaround from its previous hopes for a 14bn yen profit.
The job cuts are the second major headcount reduction in two years.
In March 2010 the firm cut 6,700 jobs in the wake of the global financial crisis.
NSG said in a statement: "The group has experienced a reduction in many of its core markets, including its significant European building products and automotive markets."
Its automotive business line operates under the Pilkington Automotive name and is one of the world's largest suppliers of motor vehicle glass.
It also said that the global market for solar energy glass had "worsened significantly".