Air India asked to pay fuel bill as firms cut supplies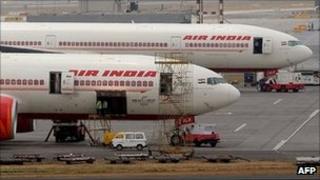 Air India has assured that it will pay its dues for jet fuel to three state-owned oil firms by Friday after its fuel supplies were cut.
Indian oil, Bharat Petroleum and Hindustan Petroleum halted supplies to the airline for almost four hours on Thursday evening.
They alleged that Air India has not paid them for fuel even after the expiry of a 90-day grace period.
The carrier owes 2.6bn rupees ($53m; £34m) for the said period to the firms.
The airline said it had made some payments over the last two days and will pay another 400m rupees by Friday.
Growing concerns
The national carrier has seen its fortunes dwindle in recent years despite merging with Indian Airlines in 2007.
The firm has been making heavy losses and its debt burden has been increasing raising concerns about the long term viability and future of the airline.
It owes a total of more than 40bn rupees in unpaid fuel bills to public sector oil companies in India.
Last year oil firms had put the airline on a cash-and-carry deal, which meant that Air India had to pay every time it refuelled its planes, rather than get a 90-day grace period usually given to make payments.
The firms had restored the credit limit on assurances from the government that payments will be made in time.
After the latest halt on Thursday, Nasim Zaidi, India's civil aviation secretary, said he had requested the firms not to halt supplies.
"I have spoken to the petroleum secretary not to disrupt supplies and he has assured me [that they will not be cut]."