Balfour Beatty workers vote for strike over pay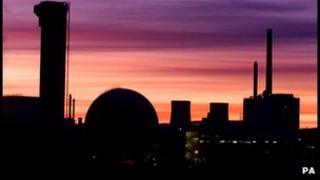 Members of the Unite union at construction company Balfour Beatty have voted in favour of strike action over pay and conditions.
Unite said 67% of voters backed action in re-ballot that followed a legal challenge to an earlier vote.
Electricians, plumbers and engineers were among those backing action, which Unite said could hit the Crossrail project and Sellafield nuclear plant.
Balfour said it was "disappointed" and urged mediation through ACAS.
"Only 295 Balfour Beatty staff and operative employees, out of a workforce of 3,063, actually voted in favour of strike action," the company said in a statement.
Unite said it had given an undertaking to the courts that it would not call industrial action until after the outcome of a hearing due to be held next Tuesday after another legal challenge from the company.
The union is in dispute with Balfour and six other construction firms over changes to long-standing industry agreements on pay and conditions.
Unite national officer Bernard McAulay said: "This high 'yes' vote for strike action indicates the resentment felt by our members. They are enraged over the use of bully-boy tactics used to try and usher in an era of de-skilling across the sector as well as massive pay cuts.
"Balfour Beatty needs to recognise it has lost the support of its employees. They need to re-join the industry-wide agreements which have served the industry so well."
A total of 295 Unite members at Balfour voted in favour of a strike, 145 voted 'no', with six spoilt papers in a 50% turnout.