Google: Mobile, social, cloud changing the way we work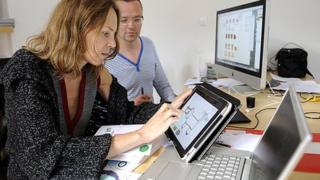 As part of our Future of Work series running throughout February, we asked some experts to give us their take on how the way we work is going to change.
Google's Sebastien Marotte is responsible for leading sales teams across EMEA, developing business strategy and identifying new growth opportunities for Google Enterprise in the region.
He joined Google from Oracle where he was senior vice president of technology for the Asia Pacific region. Prior to that, he spent 15 years in sales management at Hyperion Solutions, subsequently acquired by Oracle.
The speed at which ideas can be generated, tested and brought to fruition is accelerating faster than we could have anticipated - largely because of the explosion of social media and mobile and cloud computing.
Over the next decade, the process of sharing and developing ideas will be dramatically accelerated by the advance of these relatively young technologies having a major impact on the way products and services are brought to market, businesses are structured, job roles are created and talent is attracted, rewarded and retained.
They are transforming how we interact, and people can now easily and immediately come together across borders to solve problems and influence others.
For most people, communicating and collaborating in an online world have become the norm - organising a party, sharing news and views or coming together to fundraise is commonplace.
For many of us though, cooperating this smoothly in our professional lives is more of an ideal than a reality. But this is on the cusp of change.
The tools that make it easy to connect, share, recommend, like, advise and work together online are now available in the workplace, and will disrupt traditional working practices in ways that we are only just beginning to realise.
To help understand this workplace transformation, Google commissioned an international study with The Future Foundation, which gathered opinions from 3,500 employees across the UK, France, Germany, Japan and the USA, plus 12 experts in innovation and business transformation.
Based on this, there are three areas where we think new technologies will dramatically alter future working practices.
Communication and collaboration
Collaboration may seem like a buzzword, but many organisations are already developing cultures that encourage people to work together across locations and borders, using social, mobile and cloud technologies.
Eventually, organisations that do embrace this will reap the benefits versus those that stay stuck in silos.
Our study identified a clear 81% correlation between collaboration and innovation, revealing for example, that UK employees who are given the opportunity to collaborate at work are almost twice as likely to have contributed new ideas to their company.
In the future, innovation will increasingly emerge from different directions, both inside and outside of an organisation, and particularly from a grassroots level - and more value will be placed on the quality of ideas generated than other performance metrics.
100% mobile web business world
Mobile working and the consumerisation of IT will fuel the move to collaborative working.
According to our study, only 12% of employees are satisfied with the technology available to them at work, preferring the more intuitive tools they use in their personal lives, and nearly a half (46%) do not believe their employer makes the best use of technology to enhance productivity and performance.
As more people opt for smartphones and tablets at home, it makes sense for companies to support staff in their preferred choice of device in the workplace.
We believe this is a precursor to the 100% web business world - where applications are delivered over the internet and accessed through a web browser.
Devices like tablets and smartphones will then become central portals to information and applications that help people to be productive anywhere.
Businesses will no longer own or manage servers or client software, and can spend their time on things that create competitive advantage.
For the next generation of workers, this will be the norm, as educational organisations are early adopters of this 100% web approach.
Claires Court School, an independent school in Maidenhead, England, for example, is using Google Apps, the cloud-based suite of collaboration and communications tools plus Chromebooks, which are built and optimised to be a portal to the web, to share information and work on projects from any location.
Despite the flexibility of this approach, we do not believe the office will become obsolete in the near future. Our study showed that 57% of people still prefer the sociability of the office and will always want to spend at least some of their time in the company of colleagues.
Going social
It is clear that whether organisations like it or not, social tools are here to stay.
The challenge is finding ways for staff to use them to improve productivity, increase sales and build professional and personal networks. Increasingly, rather than seeing them as a distraction, companies will capitalise on them.
Changes to the way we work are already underway.
As a new generation of technologies breaks down barriers within organisations and across borders, we will see a move towards a working culture more focused on encouraging ideas and innovation.
Those companies that use online collaboration and communication to their advantage and embrace the desire from their employees to use the same technologies they use in their personal lives at work, will be the ones best placed to create a culture of success.