Premier League and satellite firms in new court ruling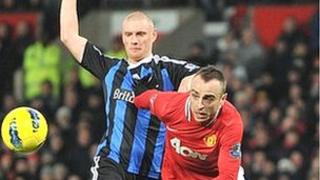 The Premier League and the importers of foreign satellite TV decoder boxes and cards are both claiming victory after their latest court battle.
Satellite systems from other parts of the EU were sold to pubs for less then that charged by Sky and ESPN, who have exclusive UK deals with the league.
Now, after a High Court hearing, the league says it will take action against pubs for breach of copyright.
But the satellite importers claim they are free to carry on their business.
Copyright v competition
The Premier League had initially taken out a civil action against QC Leisure (a digital box supplier), and SR Leisure Limited (a publican).
That case was sent to the European courts - along with that of pub landlady Karen Murphy, who had shown games in her pub using a QC decoder - for legal advice and guidance on points of law.
It meant that UK prosecutions for using these systems had been put on hold while the case went to the European courts.
Last autumn, the European courts ruled that national laws that prohibit the import, sale or use of foreign decoder cards were contrary to the freedom to provide services.
But is said while live matches were not protected by copyright, any surrounding media, such as any opening video sequence, the Premier League anthem, pre-recorded films showing highlights of recent Premier League matches and various graphics, were "works" protected by copyright.
High Court ruling
Now the High Court has said that in some aspects the importers of foreign satellite equipment had been in breach of Premier League copyright by allowing the showing of foreign broadcasts.
But it also said that the Premier League had only proved its claims of breach of copyright "to a limited extent".
Lord Justice Kitchen added that "the defendants who are continuing to trade must be entitled to carry on their business in a way which avoids infringement of [Premier League] copyright if they are able to do so".
Furthermore, he said that clauses in Premier League TV contracts with national broadcasters that prohibit them from broadcasting Premier League games outside their own country's borders may constitute "a restriction on competition".
'Court declaration'
The Premier League said: "It is clear that the law gives us the right to prevent the unauthorised use of our copyrights in pubs and clubs when they are communicated to the public without our authority.
"We will now resume actions against publicans who are using European Economic Area foreign satellite systems to show Premier League football on their premises unlawfully and without our authority."
Anand Pattani, is a lawyer at Smithfield Partners legal firm, which has represented QC Leisure and other defendants.
"Our clients are extremely pleased that, in line with the finding of the European Court, the judgment confirms that the majority of claims against our clients are to be dismissed," he said.
"Insofar as there has been a finding of infringement relating to a limited number of artistic works our clients also welcome Lord Justice Kitchin's confirmation that they must be entitled to carry on their business in a way which avoids any such infringement. "
Investment
Daniel Geey, of FFW legal firm, is an expert on sport broadcasting issues.
He says the High Court will now "make a declaration which will set out the precise infringing acts established against QC Leisure and the other defendants".
And he said the overall effect of the High Court ruling, with its observations with regard to territorial sales of TV rights, "may may have significant implications for the way that the Premier League will be able to tender its matches in the next rights auction".
Sky has pumped billions into top flight English football since the league was founded in 1992, with the money given to clubs allowing them to buy some of the top names in the world.
The Premier League's television income from mainland Europe is about £130m, less than 10% of their total £1.4bn overseas rights deal.
Ms Murphy's case will be heard in the High Court later this year.