Test cricket on sticky wicket in Middle East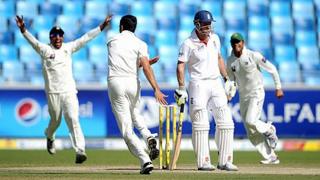 Perhaps the only thing more noticeable than England's woeful batting in their first two Test matches against Pakistan last month was the size of the crowds there to witness it.
Only about 1,000 people - including some 20 Pakistan fans - were in the 25,000-capacity stadium in Dubai when the first game began.
And while the numbers making their way to the dusty out-of-town site picked up - and crowds swelled for the second Test in neighbouring Abu Dhabi - the empty seats were no surprise in a country where about 85% of the population are expatriates, and one where the games are being held only because Pakistan is deemed too dangerous to host international matches.
Now as the third Test between England and Pakistan gets under way in Dubai, there are no great hopes for any improvement on the previous two sparse attendances.
"You have to put it in context," says Maqbul Dudhia, general manager of the sports business at stadium owners Dubai Sports City.
"This is a country where people must have a work visa to live. They are here to work."
Fans at work
The grassroots of the UAE's workforce - and its cricketing fan base - are men from countries like India, Pakistan, Sri Lanka and Bangladesh.
"These guys are often labourers doing six-day weeks and maybe only earn $200 (£126) a month - most of which they try to send home to their families," says K R Nayer, cricket writer at Gulf News.
"So they can't afford the tickets or the time to watch Test matches."
On Friday afternoons after prayers at local mosques, the air around the banks of Dubai's creek is heavy with the sound of cricket.
It is more tennis ball on plastic than leather on willow, but the passion, and the smiles, are obvious.
Pakistan expat Saed Hamid breaks off from one of the dozen or so informal games played here every week to speak to the BBC.
"We are big cricket fans and we'll go and support our team when we can," he says.
"If you go for the day, you have to spend money on food and drinks and travel, so I guess it is good for the economy."
Tickets are cheap by international standards - with most between 80 and 100 dirhams (£14/$22 and £17/$27) and as little as 20 dirhams (£3.50) for seats in the international zone intended for lower-paid workers.
Near sell-outs are expected for the day-night 50-over games and T20 matches later this month.
But it all means that overall this tour will not be a lucrative one.
'Shop window'
The stadiums do receive hosting fees running to tens of thousands of dollars per match.
And that is a welcome boost to Dubai Sports City - a development which was designed around housing, much of which is not yet started, never mind completed.
Although the Pakistan tours are a temporary arrangement, Mr Dudhia hopes for longer-term financial benefits.
While admitting empty seats don't look great for international television, the games are a shop window for the facilities, he says.
"It creates the opportunity for these people to consider utilising these venues for various things," says Mr Dudhia.
"We've got rugby coming here, we've an enquiry from a US company to do extreme sports facility, we've had baseball interest from the US, we've had international football teams wanting to come in and use it - so what it does do is market the facilities that we have."
For the teams themselves, television revenue remains the biggest source of income - and so is unaffected by attendances.
And some of that money is invested back into the local sport, with both sides paying to use training academy training facilities at the International Cricket Council, which is based in Dubai.
Corporate boost
Some private firms are managing to make money from the matches themselves.
Despite the empty seats for the Test matches, corporate hospitality areas and VIP boxes were almost fully sold out.
The UAE has a host of international sport, from the Abu Dhabi Grand Prix and European Tour golf to sevens rugby and Dubai World Cup horseracing.
But the boss of one firm selling corporate packages welcomed the addition of Test cricket.
"I wish they had more boxes. We could have sold more," says Alan Holt, managing director of Expat Holidays.
"It's been a huge success for our corporate clients, probably because it represents great value - especially compared with other sporting events in the region."
The series does have sponsors - including a Pakistan mobile phone network and a bank, also from Pakistan.
Names of UK sponsors are less apparent on hoardings around the ground.
Gulf News' Mr Nayer argues that cricket can only be fully revenue-generating if the opposition is right to attract sponsors.
"For money to be made here, India and Pakistan have to play," he says.
"The majority of businesses here are Indian-owned, and if India plays here lots of businesses will step in and that'll make a lot of money for cricket."
Given the political splits, and the fact that India know any such series would be far more lucrative on home soil, such a bilateral series being hosted here remains unlikely.
And so, for the foreseeable future, cricket in the UAE remains on a sticky wicket.
A report on this is on Middle East Business Report on BBC World TV at 1930 GMT on Friday, and 0630 GMT and 2030 GMT on Saturday.