Bank of England's Adam Posen criticises bank lending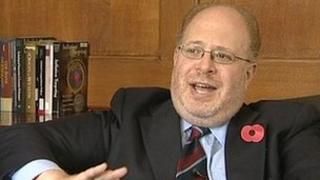 Bank of England Monetary Policy Committee member Adam Posen has criticised banks for not lending enough to small and medium-sized businesses.
Mr Posen told the BBC banks had overreacted and said the need to increase capital reserves was not a reason to stop lending.
He questioned if bankers were "reluctant, risk-averse jerks", or if there was a more fundamental problem.
He also dismissed banks' defence that there was little demand for new loans.
'Excuse'
Speaking on BBC Radio 5live's Wake up to Money, Mr Posen said the cut back in lending to small and medium-sized businesses had been "enormous".
He said banks had taken the "wrong risks" prior to the 2008 credit crunch.
"Now they've overreacted, not just in the UK but worldwide, and they've cut back on all kinds of lending that could be productive," he said.
"Regulators said they want capital buffers to go up, but they don't have to up immediately, so that's partly an excuse [for banks not to lend].
"When banks say it's all about no demand [for loans], that's crazy. Fees, prices and spreads on loans going to small businesses are going up, and normally prices don't go up when demand is falling."
He added that banks were choosing to roll over loans to big businesses rather than make new loans to smaller firms.
Alternative funding
Mr Posen said the problem was particularly acute in the UK due to the lack of alternative funding for small businesses.
He said he was in favour of other mechanisms that would allow investors and savers to lend money direct to businesses.
If there were enough, he said, the loans could then be packaged together to offer an attractive return to investors.
"We need to think of ways of pooling lots of business loans so they become a fit investment for big investors.
"These would need to be very vanilla, so everyone knows what's in them."
He said there were such schemes but there needed to be more, as there are in the US and France.
Falling inflation
Mr Posen also dismissed some criticisms of the Bank's programme of quantitative easing (QE), whereby it creates money to buy assets.
Some commentators have said it creates inflationary pressure in the economy, while the money created sits on banks' balance sheets and does not filter through into the real economy.
"QE is not about inflation - if it was, inflation would continue to rise, but instead we're seeing it fall and it's going to keep falling all year," Mr Posen said.
He also rejected the idea that banks simply sit on the cash.
"We buy directly from big investors like the pension funds and they invest it in the real economy."
He did, however, concede that "in the UK we don't have the structures to disperse the money into the real economy".
But he said "things would have been much worse without QE".