Sony reports further losses as Thai floods hit sales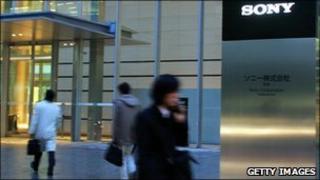 Japanese electronics giant Sony has reported another quarterly loss after sales were hit by lower production following the floods in Thailand.
The company reported a net loss of 159bn yen ($2.1bn; £1.3bn) for the final three months of 2011, compared with a profit of 72bn yen a year earlier. Sales fell 17% to 1.8tn yen.
The firm also blamed weaker demand and the strong yen for the loss.
It also forecast a loss for the financial year of 220bn yen.
In November, Sony had predicted an annual loss of 90bn yen.
Analysts were unimpressed with the results.
"Sony's earnings were worse than I had imagined," said Hisashi Kuroda at Meija Yasuda Asset Management.
"Sony has few businesses that have value. The only hope is, perhaps, film and music, or whether they can make a recovery in the game business - basically software business - not the hardware one."
New leadership
The company has struggled in recent years, particularly at its TV division, which has lost money for the past seven years.
It has been hit by price falls, an oversupply of panels, and intense competition and innovation in the electronics market, analysts say.
On Wednesday, Sony announced that its chief executive, Sir Howard Stringer, would step down from the job on 1 April, to be replaced by vice president Kazuo Hirai. Sir Howard will stay on as chairman.
"It won't be easy for Sony to regain its lost ground under new leadership, as its overall competitiveness has sharply weakened," said Kim-young Chan at Shinhan Investment.
"It's got structural problems that will take years to fix."