China box office takings top $2bn in 2011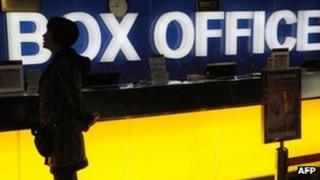 China's box office takings surged 29% to 13.1bn yuan ($2.1bn; £1.3bn) in 2011 and are forecast to rise by around 20% this year, new figures show.
Transformers 3: The Dark Side of the Moon was the top grossing film, taking $170m, according to Artisan Gateway, a Shanghai-based industry consultancy.
The Flowers of War, a film about the Nanjing massacre starring Christian Bale, was the top earning Chinese film.
In 2012, Artisan Gateway expects box office takings to total $2.5bn.
The growth in China's box office revenue has been driven by a massive expansion in the number of cinema screens.
Artisan Gateway said that by the end of 2011, the country had 10,500 screens and this could top 13,000 by the end of 2012 - the equivalent to seven cinema screens opening each day.
By comparison, the US has 40,000 cinema screens.
The average ticket price in China is 40 yuan.
Blockbusters
China limits the number of Hollywood films that can be released in domestic cinemas but US blockbusters have proved very popular among Chinese moviegoers.
Kung Fu Panda 2 and Pirates of the Caribbean: On Stranger Tides, trailed Transformers 3 in the year's box office rankings, taking $98m and $76m respectively.
"Overall, we will see continued growth for China, with concurrent growth of both domestic and imported films at the box office," said Rance Pow, Artisan Gateway's founder.
The figures for local films were boosted by the release of The Flowers of War by director Zhang Yimou, which has taken $74m since its release on 15 December outpacing state-backed extravaganza The Beginning of the Great Revival, which took $67m.
Another big local performer was the low-budget romantic comedy Love is Not Blind, which took $56m.
China has been trying to support its domestic film industry. Last month, Xinhua reported that 791 films were made in China in 2011, accounting for just over half of all ticket sales.
In January, President Hu Jintao called on China to boost its own cultural production to guard against Western influence.