Lynas shares surge 19% on Malaysia rare earth licence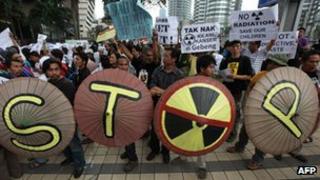 Shares of Australian miner Lynas surged after Malaysian authorities granted it a licence to operate a rare earth refinery in the country.
Lynas shares closed 19% higher at A$1.590 on the Australian Securities Exchange.
Once completed, the plant is expected to be one of the biggest sources of supply of rare earth elements outside China.
Rare earths are used in products such as hybrid cars and flat screen TVs.
"It is a huge deal. This is their only processing plant and it has take some time to get it up and running," David Lennox a mining and resources analyst at Fat Prophets told the BBC.
Conditional approval
Lynas' plans to open the refining plant had resulted in various protests in Malaysia with critics saying that the process would cause environmental damage to the region.
As a result the Malaysian authorities have granted the approval for an initial period of just two years and asked the miner to adhere to strict safety conditions.
Lynas said that it will work towards allaying any fears about the impact of its operations.
"Lynas recognises its responsibility to the community to operate the plant in a safe and sustainable manner," said Nicholas Curtis the company's executive chairman.
Analysts said though the approval had been received well by the markets and investors, an element of uncertainty continues to surround the plant.
"There were a lot of extra terms and conditions imposed on it compared to what was known when they planned and started construction on the plant," said Fat Prophets' Mr Lennox.
"The serious bit is that there is a two year review period after which the government could actually impose further technical and production restrictions or in a worst case scenario even close it down."