Sony replaces chief executive Sir Howard Stringer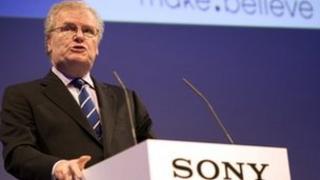 Sony has announced that its chief executive Sir Howard Stringer is to step down from the job in April, to be replaced by vice president Kazuo Hirai.
Sir Howard will stay on as chairman.
Mr Hirai has been expected to take over as chief executive since he was made head of consumer products and services in March.
Sony is predicting its fourth year of net losses for the year to the end of March, hit by the strong yen and poor sales in its television business.
The company is due to announce its third quarter results on Thursday, when it also says it will give more details of its management changes.
As a Welsh-born American, Sir Howard was the first foreigner to lead Sony when he took over the running of the business in 2005.
He announced last year that he was taking a pay cut after a particularly difficult year in which Sony's factories were damaged by the tsunami and its reputation was hit by a security breach that left more than 100 million customers' accounts compromised, forcing Sony to temporarily close its PlayStation network.
Mr Hirai said: "As challenging as times are for Sony now, were it not for the strong leadership of Sir Howard Stringer these past seven years, we would have been in a much more difficult position."
Mr Hirai has spent most of his career at Sony in software businesses and played a major role in the development of the PlayStation brand in the 1990s.
Before that he worked for Sony Music, marketing Japanese artists in the US and then representing international acts in Japan.