Stock markets rise on manufacturing data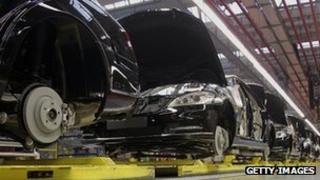 Promising figures for manufacturing output in economies throughout the world have boosted global stock markets.
In the US, the ISM manufacturing index rose to 54.1, the strongest reading for seven months. A reading above 50 implies expansion.
In the eurozone, Markit's purchasing managers' index (PMI) rose to 48.8, up from December's figure of 46.9.
European markets were up by about 2%, while in the US the Dow was up 1%.
"The US manufacturing sector gained further growth momentum in January, adding to a raft of business surveys around the world that have signalled a better than expected start to 2012 for many countries," said Chris Williamson, chief economist at Markit.
Jerry Harris, president of asset management at Sterne Agee, said the ISM index figure showed the US economy was "doing pretty good".
"It is better than last month, and very acceptable. Even though it was slightly below expectations it was a good number," he said.
European manufacturing
The eurozone survey found German manufacturing returned to growth, while the declines in Spain and Italy slowed.
"Euro area manufacturing has started 2012 surprisingly well, suggesting the region may avoid a slide back into recession," said Mr Williamson.
James Ashley at RBC said: "The latest survey readings suggest that conditions in the euro area manufacturing sector have begun to stabilise in recent weeks after a difficult end to 2011."
"Output in January was slightly stronger than in December, and employment levels were unchanged on the month."
The more optimistic data was reflected in the major European stock markets.
Germany's Dax index closed 2.4% higher, while the French Cac 40 was up 2%.
Markets were also helped by better-than-expected figures showing an expansion in Chinese manufacturing activity.
In the UK, where manufacturing activity was the strongest for eight months, the FTSE was up almost 2%.
As well as the factory figures, stock markets were also helped by some very strong rises in bank shares.
'Shallow recession'
Germany's PMI reading rose to 51, the highest level for six months.
In Italy, the manufacturing PMI reading rose to 46.8, the best reading for four months, while in Spain the reading of 45.1 was the highest for five months.
However, in France the reading fell to 48.5, and Greece's level of 41 implied that production there was falling at the fastest pace in the survey's history, Markit said.
Gilles Moec, co-head of European economic research at Deutsche Bank, said: "The rebound in the PMI strengthens a 'shallow recession scenario'. That the periphery also rebounded in January is probably the best message from this batch."
However, the Markit survey also found that new orders declined in all eurozone nations except for Austria.
"The concern is that new orders have yet to return to growth, even in Germany, suggesting that companies will be reluctant to expand capacity and take on more staff until signs of stronger demand have appeared," Markit's Mr Williamson said.