Hong Kong unveils $10bn budget relief package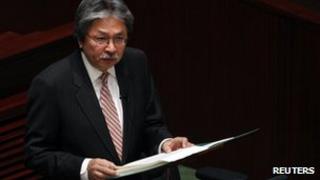 Hong Kong has unveiled measures worth 80bn Hong Kong dollars ($10bn; £6.5bn) to help local residents and businesses prepare for a "difficult year."
The measures, announced in the annual budget, include tax rebates, loan guarantees, and subsidies.
Hong Kong's financial secretary said the package would boost the economy by 1.5 percentage points in 2012.
John Tsang warned that "bleak" economic prospects for the US and Europe would lead to slower growth in Hong Kong.
"I am not optimistic about Hong Kong's export performance in the first half of the year," he said.
Mr Tsang said Hong Kong's economy would grow by 1% to 3% in 2012 but the forecast range was larger than usual because of the uncertain global economy.
Hong Kong's economy grew by 3% in the last three months of 2011 from the same period a year earlier, he said. The rate was the slowest in two years and below economists' forecasts.
The relief measures unveiled by Mr Tsang included a personal tax rebate of 75% up to a ceiling of HK$12,000, increased tax allowances, electricity bill and property rates subsidies and two free months' rent for public housing tenants.
For businesses, measures included loan guarantees for small and medium-sized companies, and corporate tax rebates.