Walt Disney acquires controlling stake in India's UTV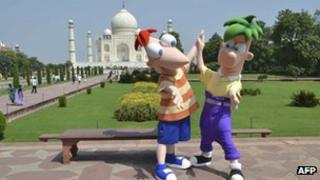 Walt Disney's expansion plans in India have received a big boost as it agreed to acquire a controlling stake in UTV, one of India's biggest media companies.
The move comes after India's cabinet approved a proposal by Disney last month to buyout shares in UTV that it did not previously own.
The companies did not disclose how much Disney will pay to acquire the stake.
International firms have been looking to increase their presence in India to tap into the fast growing market.
"Increasing our brand presence and reach in key international markets is a cornerstone of our growth strategy," said Andy Bird, chairman of Disney International.
Increasing presence
Disney has already made forays into the Indian market and currently operates three TV channels in the country.
UTV is known for its film and television production as well as gaming and animation in India.
Disney said that the acquisition of the Indian firm will give it an opportunity to further enhance its presence in a market which has a growing consumer base.
"This acquisition expands our footprint significantly and allows us to more effectively build, monetise and brand multi-platform franchises, and deliver a rich library of content to the world's second largest population," said Mr Bird.
Disney is planning to delist UTV, which is traded on the Bombay Stock Exchange and the National Stock Exchange.
It has named UTV's CEO and Founder chairman Ronnie Screwvala as the managing director of the new entity.