Amazon announces lower profits and warns of loss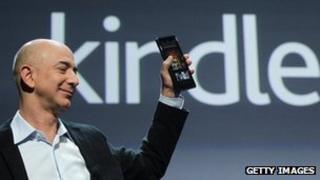 Online retail giant Amazon has announced a sharp fall in profits and warned about worse than expected results this year.
Net income for the three months to the end of December was $177m (£114m), down from $416m in 2010.
The fall came despite an increase in revenues during the period to $17.43bn, up 35%
But the company warned that it may lose money during the first quarter of this year as it continues to invest.
Shares in the technology giant fell more than 8% in after hours trading as investors reacted to the disappointing forecasts.
"Amazon is not a cheap stock, so any type of disappointment, we typically see a pretty meaningful reaction by the market," said James Lee, analyst at Credit Agricole.
Kindle
The company said US sales of its popular range of e-book readers, The Kindle, surged during the nine weeks to the 31 December, increasing by 177% on the previous year.
The sales coincide with the release in the US of the company's new touch screen Kindle Fire tablet.
"We are grateful to the millions of customers who purchased the Kindle Fire and Kindle e-reader devices this holiday season, making Kindle our bestselling product across both the US and Europe," said Jeff Bezos, CEO of Amazon.com.
The company forecast that its sales would continue to grow during the start of this year but warned that it may struggle to make a profit as it continues to invest.