Profile: Fred Goodwin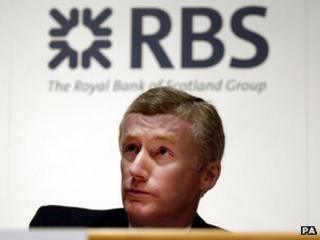 Fred Goodwin has been stripped of his knighthood due to his role in the collapse of Royal Bank of Scotland, which had to be bailed out by UK taxpayers.
The former head of RBS, who was said to have revelled in his nickname Fred the Shred, will no longer be able to use the honorary title he was given for services to banking.
Mr Goodwin was in charge at Royal Bank of Scotland for nine years and steered it from being a bit-part player to global icon as one of the world's top five banks.
Commonly described as the most charismatic and also most abrasive of the banking bosses, Mr Goodwin's position became untenable as the bank had to be saved with £20bn of public money.
The total injection of public money now totals £45.5bn and taxpayers face a loss on that investment of £22bn.
He built up the bank with acquisition after acquisition - Natwest, Coutts, Adam & Co, Direct Line, Ulster Bank, Churchill and Citizens Bank in the US - and then ruthlessly cut costs through staff reductions to generate bigger profits.
The takeover of Natwest in 2000 was seen as a particular success, with Mr Goodwin praised for the way he integrated the much-larger bank into RBS.
At its peak it had a huge balance sheet of loans and investments worth £2 trillion, considerably bigger than the UK's annual output or GDP. It briefly became the largest bank in the world.
But the wheels started to come off with the record-breaking acquisition of ABN Amro as part of a consortium at the height of the boom in 2007.
"It just shows how quickly things change," an under-fire Fred Goodwin told the BBC News website in 2008, after the bank announced heavy losses a few months later.
A combination of the ABN takeover and huge investments in bonds made out of poor-quality US subprime loans left RBS on the brink of collapse after the demise of the US investment bank Lehman Brothers in September 2008.
He stepped down as the government took control of the bank the following month.
Vintage cars
Before leaving RBS, he split his time between the City of London and the bank's new headquarters on the edge of Edinburgh.
He is married to Joyce and has two children, but he has worked hard to protect his family's privacy.
Mr Goodwin likes to restore vintage cars and the RBS's long association with Formula One may be in part due to his passion for cars. It certainly did not last long after his departure, as RBS ended its sponsorship of the Williams Formula One team at the end of 2010.
He plays golf, and is a fan of rugby. The bank is heavily involved as a sponsor of the Six Nations rugby union championship and it recently extended its sponsorship for a further four years in a deal worth £20m.
Mr Goodwin was a regular visitor to 11 Downing Street when Gordon Brown was chancellor.
He attended grammar school in Paisley and then went on to Glasgow University.
He studied law and later became a chartered accountant in 1983 rising to partner at Touche Ross five years later.
Mr Goodwin led the team handling the liquidation of the Bank of Credit and Commerce International and his subsequent banking career took him to top positions at the Clydesdale Bank and Yorkshire Bank after which he joined the board of RBS in 1998.
He was knighted for his services to banking in 2004 and was chairman of the Prince's Trust charity for a number of years.
The chief executive agreed to waive a pay-off, which includes the right to a year's salary - £1.29m in 2007. Including his £2.86m bonus, he was paid a total of £4.2m that year.
Mr Goodwin apologised to a committee of MPs at the beginning of 2009, telling them that he "could not be more sorry" about what had happened.
But public anger intensified when it emerged that the 50-year-old was drawing payments worth about £700,000 a year from a pension pot then valued at £16m.
The Cabinet Office said that that the failure of RBS played an important role in the financial crisis of 2008-9 which, together with other macroeconomic factors, triggered the worst recession in the UK since World War II and imposed significant costs on UK taxpayers and businesses.
A report published last year by the City regulator the FSA blamed failings of regulation and management at RBS for the collapse of the bank. It highlighted poor management decisions, lack of mechanisms for challenging decisions internally and deficiences in culture at the bank, "particularly its attitude to the balance between risk and growth".