Facebook: The challenges on the next page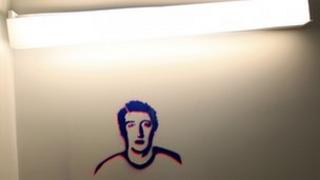 Even now the Facebook story seems barely believable.
A 21-year-old geek starts a social media phenomenon in his bedroom; transforms the way we use the internet; is feted as a visionary by world leaders; has the globe's biggest investors and advertisers queuing at his door; clashes with privacy regulators and strikes fear into parents; is the subject of a film that wins three Oscars; and, err... makes billions along the way.
And Facebook chief executive Mark Zuckerberg has done it all in about eight years. No wonder the stuffed shirts of Wall Street and the T-shirts of Silicon Valley call the company "hot".
Can this remarkable story continue? We are about to find out.
Facebook's decision to float on the stock market is a watershed moment that will force the brash young business into adulthood.
The private company - private in both the legal and cultural sense - will be exposed to scrutiny like never before; its business model dissected by investors looking for a quick buck, and its executives made to endure the demands of Wall Street.
"The transition to being a publicly listed company will inevitably change the dynamic of Facebook, despite Mark Zuckerberg's insistence that his focus will remain on users and not shareholders," said Andrew Tonks, a social media expert at the online marketing agency Koozai.
Mr Zuckerberg is said to have initially resisted a stock market launch, and investors will be watching to see how the "brains" behind Facebook deals with the new pressures.
'Big Kahuna'
The company's size, and the breadth of shareholder base - many of whom, no doubt, want to cash in some of their investment - meant that a stock market listing became inevitable.
Facebook's IPO will be big. As a Wall Street Journal headline put it last week, it will be the Big Kahuna Of Stock Listings.
However, the decision to raise just $5bn from the flotation (via the sale of just a small percentage of the available shares) is about half what analysts expected the company would seek.
The final figure to be raised will be determined over the coming months once Facebook's financial advisers have assessed demand for the shares.
Many analysts still think Facebook will achieve a valuation of some $100bn, putting it above Ford, at $47bn, and Citigroup, at $89bn, but way behind Apple, at $425bn.
Sceptics argue that there is a lot of hype priced into Facebook's valuation, and legendary investor Jim Rogers has already said that he is unlikely to be a 'buyer'. Facebook's shares can be privately traded on the SharesPost secondary market. There, the company's valuation is about $74bn.
Facebook supporters, however, point to its money-spinning track record, and potential to refine its advertising model and add to the 845 million active users of the site.
The bulk of Facebook's revenues come from online display advertising, the big banner-style ads that typically include text, logos or videos.
Facebook's revenues in 2011 almost doubled to $3.7bn, and research firm eMarketer believes the figure could reach almost $5.8bn in 2012.
In data published this week analysts at another research group, comScore, estimated that Facebook's share of the US online display ad market grew to 27.9% in 2011, up from 21% a year earlier.
This compares with Yahoo's 11%, and Google and Microsoft, which have less than 5%, comScore said.
In short, say the Facebook bulls, the company is growing fast and smashing the competition - success that will continue as ever-more advertisers are persuaded that online marketing is the way to reach an audience.
Not convinced?
But advertising prices for online are far lower than for the rates traditional media - well under half, say analysts - because many ad companies remain unconvinced about the return on their investment.
Debra Aho Williamson, eMarketer's principal analyst, said: "Even though Facebook has spent several years wooing marketers, many of them still believe the ads are not effective at driving clicks and other actions.
"Facebook must either work to improve its clickthrough rate or show advertisers that advertising on the site is effective even without a click or other action," she said.
Key to Facebook's continued growth will be rolling out new and improved services, such as music and movies, that will get users spending more time on the site.
So-called 'user fatigue' presents a real challenge to a company that must remain fresh.
There are, of course, hundreds of millions of more potential users that Facebook has yet to enlist, although it has been pointed out that many of these are in countries without infrastructure or run by governments hostile to social networking sites.
Facebook's user growth is certainly not flatlining, but it may slow over the next few years. This could be especially true as Twitter and the Google+ service evolve in new directions. Even Amazon is adding more social features to its site with reviews and interaction.
Slower user growth may not matter if Facebook can extract a bigger financial value from its existing users through improved data mining and more sophisticated targeting by advertisers.
Martin Pyykkonen, analyst at Wedge Partners, said that Facebook's 'like' button, which when clicked by users can allow advertisers to target promotions more directly, is ripe for expansion.
'Holy grail'
"It is likely that advertisers will be able to even better target their audiences as Facebook goes deeper with integrating apps, games, movies, music," he said.
What is important is not necessarily the way in which users view ads and click them, but the way in which consumers talk about brands with their Facebook friends.
Koozai's Andrew Tonks believes Facebook has achieved "the holy grail of advertising platforms... by weaving brand messages into the fabric of people's social lives.
"It can deliver advertising to people without them realising they are being sold to," he said.
But many marketers believe firms can engage consumers on Facebook without spending a great deal on advertising.
Ms Williamson said: "Having amassed a large quantity of 'likes', some brands feel that they can continue to market to these people directly through their pages rather than by buying advertising on Facebook.
"This may especially be the case for companies that market to Facebook's younger users, because they tend to be more willing to 'like' or comment on brand pages."
She expects advertising will continue to decrease as a proportion of total revenues as Facebook diversifies its revenue streams.
Already we are seeing the importance of other parts of the business. Facebook supports a network of app developers, such as the hugely popular gaming group Zynga.
And app firms must take payments from customers via Facebook Credits, the company's online payment system. EMarketer estimated that revenues from Facebook Credits doubled last year to $470m - and is set to grow.
Facebook's headline figures are undeniably impressive. And given that the full potential of its business model appears untapped, the omens look good.
But there are two financial maxims worth considering: that past performance is no guarantee of future success; and that the only reason a company floats on the stock market is to sell its shares for more than they are worth.
We are about to see whether the most anticipated stock market debut in history holds them to be true.