Rolls-Royce gears up for Singapore production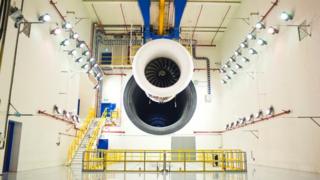 In a cavernous white room, about the size of an Olympic swimming pool, an aircraft engine is being tested.
At full throttle, it will suck in a squash court full of air every second.
The seven-tonne cylindrical Trent 900 engine, which powers the biggest passenger plane in the world - the Airbus A380, hangs in mid-air at the heart of the Rolls-Royce Seletar facility in Singapore.
When engines like this one start rolling off the production line in a few months' time, it will take 14 days to put one together from start to finish.
Such productivity levels - which the company insists are on par with the quintessential British manufacturer's main UK facility in Derby that also makes the Trent 900 engine - were central to Rolls-Royce's decision to start manufacturing here.
"The decision to invest in Singapore is about growth," says Jonathan Asherson, director for South East Asia at Rolls-Royce's aerospace arm.
"We are going to deliver double the amount of engines by the end of this decade than we do now.
"To cater for that growth we need to invest, and the investments we make need to be near our customers, and in this case to the highest-growing region for us."
Government support
Almost half of Rolls-Royce's new orders for aircraft engines last year came from airlines in this region.
And the company expects orders from Asia to keep rolling in consistently for the foreseeable future.
The facility in Singapore, worth 700m Singapore dollars ($562m; £355m), is not only Rolls-Royce's first such capital investment on this scale in Asia, it is also the only one outside the UK.
Once fully operational, it will assemble and test about 250 engines a year. In seven or eight years, it is expected to be producing about half of Rolls-Royce's global output.
The decision to choose Singapore as a regional manufacturing hub was made easy by a few factors.
For one, major government support came in the form of tax incentives, as well as training and innovation grants.
Rolls-Royce has had a presence in Singapore for 50 years, through joint ventures and servicing for one of its biggest customers to date, Singapore Airlines.
However, the biggest pull was the promise of a steady supply of highly skilled labour, through partnerships with local universities and polytechnics.
Productivity boost
Authorities, as well as the education sector, are working together to cater for Rolls-Royce's labour needs, by giving workers such as Kenneth Koh, 26, the education required.
"When I heard that Rolls-Royce was setting up a start-up facility in Singapore it was one of the major reasons why I decided to do aerospace engineering," he says.
Mr Koh has been working as a technical author at the company for eight months.
He writes instructions for the processes that make the fan blades for the Trent 900.
Rolls-Royce has begun training workers such as him in droves in these kinds of specialised skills.
That is what accounts for greater efficiency and speed in Singapore, compared with Derby, according to Leithen Francis from Aviation Week.
Also, in Singapore all manufacturing and assembly will be in one building, as opposed to across five different facilities in the UK.
"Work practices will be different and much more specialised in Singapore," he says.
"They have fewer tasks, which they get really good at, so Rolls-Royce is expecting huge increases in productivity."
But Rolls-Royce's Mr Asherson says this does not mean jobs will be leaving Derby.
"This is not about transplanting activity from one place to another," he says.
"The UK remains our main centre and we do service and manufacturing in the UK more than in any other place in the world."
However, some of the functions and services once only performed in the UK will now also be done in Singapore.
Failure investigation
One of them is assessing what has gone wrong when things do not go as planned with their engines.
The most notable incident for Rolls-Royce in recent times is the Qantas mid-air engine failure in November 2010. The Australian Transport Safety Bureau found in its investigation that a fault in a pipe 5mm in diameter caused the engine fire.
It was a stark reminder that there is little room for error when it comes to the reliability of an aircraft engine. It takes only one of the 18,000 pieces in an engine to malfunction for lives to be at risk.
Teo Mei Shi is part of a new "failure investigation" laboratory set up in Singapore, tasked with figuring out what went wrong when an engine malfunctions in any way.
"I was sent to Derby in the UK for a year of training on how to carry out the failure investigation process - learning equipments, procedures and techniques," she says.
The Trent 900 in the Qantas flight was sent to Derby for failure investigation.
However, Teo is hoping that once their lab is fully functional, if there are any incidents in this region that work will fall to her team.
"Indirectly, we can help to save lives. We find the root cause then we pass our finding on to another department which finds solutions."
The Qantas plane turned around after the engine failure and landed safely back in Singapore.
Although confidence looked to be shaken in the immediate aftermath, Rolls-Royce is quick to point out that customers have not been deterred.
"Since that incident there have been three orders for that aircraft type and those orders have come to Rolls Royce," Mr Asherson says.
Dual advantage
His confidence seems to come from the success Rolls-Royce has had in recent years.
It is now the second-largest maker of engines for large commercial planes behind General Electric, according to market research firm Ascend. In Asia, it has captured half the market.
However, it is fourth in the rankings when all commercial planes, wide and narrow body, are considered.
But it is now also a point of pride for the tiny island of Singapore, as it competes with bigger manufacturing neighbours such as China and India.
The investment from Rolls-Royce means a major boost of 15% for Singapore's aerospace industry.
By 2015 the Seletar campus will account for 0.5% of the country's gross domestic product or some 1.66bn Singapore dollars.
And this British manufacturer gets to call itself a truly global engine-maker.
A previous version of this story quoted figures from a Rolls-Royce official who had told BBC News it takes the company's Derby facility more than 20 days to make the Trent 900 engine. This is incorrect as the two plants are equally efficient, the company later said.