Giving an invasive water pest the bullet
By Will Smale
Business reporter, BBC News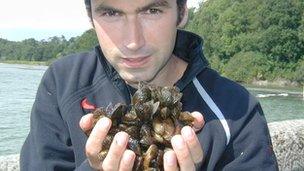 If someone mentions mussels and your first thought is a big bowl of moules mariniere, then you are not alone.
However, the popular seafood dish has a much less palatable relative, the freshwater zebra mussel.
An invasive species, the zebra mussel clogs up water works and systems across the UK, costing millions of pounds each year to remove.
The removal is more often done by having to send down divers to hack them off by hand.
This is because it is very difficult to get rid of zebra mussels using poisons - they can sense them in the water and simply close their shells for up to three weeks until the threat has dissipated.
Anglian Water alone says it spends £500,000 a year on combating the mollusc.
So named because of the patterns on its shell, the zebra mussel is native to Russia and Ukraine.
Much smaller than typical salt water mussels, it spread to western Europe as canals were built in the early 19th Century, hitching a ride on the undersides of ships.
It was first found in England in the 1820s, before spreading out across all parts of the UK.
With each female zebra mussel able to produce up to a million eggs per year, serious infestations can quickly form.
Thankfully a Cambridge-based company called Biobullets has come up with a much easier - and cheaper - means of removing them. A method that owes much to the ancient Greeks and their Trojan horse.
"We 'sugar-coat' a toxin to trick the mussels into eating it," says Biobullets co-founder and Cambridge University marine biology lecturer David Aldridge.
"And when I say sugar-coat, what we actually do is cover tiny particles in a tasty vegetable fat.
"The zebra mussels then eat the Biobullets, building up a concentration of the toxic without realising it until it kills them, and they fall away."
The toxin in question, potassium chloride, is safe to use in the water supply system as anything that is not eaten by the zebra mussels degrades in less than three hours.
Founded back in 2000 by Mr Aldridge and fellow Cambridge lecturer Geoff Moggridge, Biobullets has been financially supported by the government's Technology Strategy Board (TSB), including a £557,000 grant in 2009.
The UK's national innovation agency, one of TSB's key roles is helping to connect university research projects with private companies.
It was in this regard that TSB assisted Biobullets in finding a business that could manufacture the company's product on a large scale.
The manufacturer in question is Bristol-based food industry business Tastetech, which employs about 40 people.
A food company may not immediately seem appropriate, but Tastetech actually turned out to be a perfect fit.
This is because Biobullets needed a manufacturer which could ensure that the toxins in the granules were released in a controlled manner, and Tastetech's expertise in the food industry is the slow release of flavourings, such as in chewing gum.
"Obviously we had to be careful because we are a food manufacturer," says Tastetech's process development manager Peter Sargent.
"So we built a completely separate new plant.
"We've essentially spent the last decade improving and refining the product, and are ready to go to full production, potentially 3,000 tonnes per year."
As trials with UK water companies have proved successful, Dr Aldridge says he plans to launch the product commercially later this year.
"We are confident that the export potential is vast," he says.
"Zebra mussels are even more of a problem in the US, which their cost is estimated at up to $1.5bn (£952m) per year.
"We have strong patent protection, and the beauty is that our patent is very broad, so we can develop the product to slow release food instead of toxins. This way, it can be used to increase the productivity of scallop and oyster beds."
Ian Gray, the chief executive of the TSB, says the agency was very pleased to have helped Biobullets and Tastetech come together.
"The work of this project clearly demonstrates that technology transfer and knowledge exchange are so important to the innovation process and that they need to be fostered and encouraged," he says.
"This exciting collaboration has not only resulted in job creation and expansion but has also led to more rapid commercialisation of the technology concerned, which is a key aim for us as a supporting organisation.
"We want to help UK companies enter new global markets and realise that shortening the concept to commercialisation journey is a critical component in achieving that aim."
Back at Biobullets, Dr Aldridge says that while zebra mussels will never be eradicated in the UK, his product will certainly have a big impact in controlling their numbers.
But can you eat zebra mussels?
He says: "Theoretically yes, but they don't taste of much.
"And as they filter vast quantities of water, they can build up a lot of pollutants. So you'd have to be sure of the surrounding water quality.
"Generally speaking, they are definitely not worth eating."
Related Internet Links
The BBC is not responsible for the content of external sites.