Stelios blasts Easyjet's bosses over 'fat cat bonuses'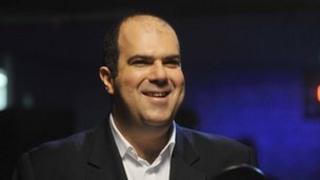 Easyjet founder Sir Stelios Haji-Ioannou has denounced executives at the airline over their "fat cat bonuses".
Sir Stelios, whose family still has a 38% stake in the airline, has tabled a motion at the annual meeting next month blocking a proposed pay deal.
But press reports have suggested that the board could resign en masse if shareholders agree.
Attacking the "gravy train" of major companies, Sir Stelios said: "These guys are welcome to resign anytime."
"I know as shareholders we could easily replace them with talented executives and experienced non-executive directors who will cost half as much in bonuses," he said in a statement.
The directors have put forward a pay deal that could award 10 senior executives £8m worth of shares in three years if certain targets are met.
Bonus rows
"We must take a stand against directors who seem to regard our company as their personal piggy bank to be dipped into at will. The gravy train of £180m free shares issued over the last decade must come to an end now.
"Simply put if shareholders can vote down bonuses at Easyjet then bonuses will come down in all listed companies.
"And that is good for shareholders and pensioners whose pensions are invested in these companies," Sir Stelios said.
An Easyjet spokesman said that characterising the £180m as bonuses to directors was unfair.
"The majority of those shares were issued to Easyjet staff including pilots and cabin crew by Stelios when the company floated, and the total includes popular staff schemes such as save as you earn."
Bonuses at major firms have continued to be a source of controversy, the most recent example being at state-owned Royal Bank of Scotland. Chief executive Stephen Hester will not take his bonus worth nearly £1m.
Easyjet chief executive Carolyn McCall earned £1.5m in 2011 in her first full year in the job, including £840,000 in bonuses.
The low-cost airline saw revenues rise 16.7% in the last three months of 2011 as passenger numbers rose 8.1%.
Sir Stelios, who founded Easyjet in 1995, quit the airline's board in 2010 after a row over strategy. But he and his family still control a large number of the shares.
He is also opposed to the airline's decision to buy new planes from Airbus.