Unilever to face more pension action, workers warn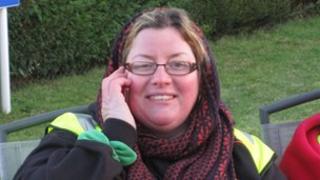 Union representatives from Unilever's UK factories will meet in Liverpool on Saturday to plan the next stage of their campaign against changes to their pension scheme.
The company is pressing ahead with its plans to close its final-salary scheme in July, and to move current staff into a less generous career-average one instead.
After consultation since April last year, the change has now been agreed by the scheme's trustees.
Despite recent strikes by Unilever staff, and their unions' repeated calls for more negotiations, the company says it hopes its staff will look at its plans "afresh".
"We believe that career average offers our employees a defined benefit pension which is fit for Unilever UK and the times we live in today," the company said.
And it sticks by its argument that the proposed career average scheme will still be quite generous, with the company putting in almost as much as it does into the current final salary version.
Cold comfort
Last Saturday, workers at the company's Pot Noodle factory, at Crumlin in Gwent, staged the last in a rolling series of one and two-day strikes.
Spread over 11 days, the strikes involved more than 2,000 workers at 12 different Unilever sites around the country.
Despite the near-freezing temperatures, and lack of movement from the company, the staff on the Unite picket line at Crumlin seemed remarkably cheerful.
However they were in no doubt that they would lose a large chunk of their potential pension income once the changes went through.
They said this was particularly unfair given the buoyant profitability of the Unilever group.
"On the new figures that they have proposed to me I will lose £65 a week if I work until 65 and get my years in," said Lorraine Gronow, chair of the Unite trade union branch at the Pot Noodle factory.
"Unite gave us a calculator, we put our information in, and it calculated what you would have had, and what you won't have."
Public and private
Hundreds of thousands of public sector workers went on strike last autumn against proposed changes to their pension schemes, and that dispute is still rumbling on.
Such protests have been rare in the private sector.
There, most employers have pushed through the closure of final-salary schemes to new staff, and with little opposition.
In January the oil firm Shell became the last of the FTSE-100 companies to announce the closure of its final-salary scheme to new recruits.
Closures to current staff have been gathering pace too.
The union activists at Pot Noodle say they have a lot more up their sleeves to try and force Unilever's senior management to resume negotiations.
One idea is to hold a demonstration outside Unilever's headquarters in Holland.
Stuart Hayward feels particularly aggrieved, as he transferred £42,000 into the Unilever pension fund from a previous pension scheme when he started at the Pot Noodle factory 12 years ago.
He now feels misled.
"We should keep on what we are doing, whatever it takes," he said.
Healthy fund?
Alan Shears is 60 years old and has been an electrician at the factory for 17 years.
He has worked out that he now stands to lose £2,000 a year in reduced pension if Unilever gets its way.
That is not as much as some, but in his view the company's planned change is unnecessary.
"The reason [given] was that people were going to live longer and the fund was very poor [but] people have been living longer for a long time and the fund is in a healthy state," Alan Shears said.
"The real reason is they want to make the business more profitable for them and then sell it on."
The health of the fund is disputed by Unilever, which says it was in deficit to the tune of £680m at 31 March 2010, requiring the company to pump in extra money.
This cut no ice with strikers like Don Jenkins, a production worker at Pot Noodle for 20 years.
He has calculated that he will lose £56 a week in pension when he retires.
"They gave us a pension contribution holiday five or six years ago. We are hoping this will bring them back round the table," he said.
The boss's salary
Jeff Woods, a full-time official for Unite, claims that Unilever does not seem interested in talking, now that the required 60-day formal consultation on the pension change is over.
"They have walked away thinking the individual employees would not react - I don't think they have actually calculated what it means to these long-standing employees," he says.
Unilever denies this.
"At no stage have we underestimated the strength of feeling that making these changes has evoked," it said.
However Jeff Woods argued that feeling is also being stoked up by the big contrast between staff pay and senior executive pay at the company.
"Mr Polman [Unilever chief executive] has just been given a 50% remuneration package increase, which makes it 285% more than the average worker of Unilever," Jeff Woods says.
He disputed Mr Polman's recent assertion, at the World Economic Forum in Davos, that employees were pricing younger recruits out of potential jobs if pension schemes enabled staff to retire on 50%, 60% or 70% of the final salaries.
"I would be happy to live on a pension of 40% of his wages ," says Jeff Woods.
"[A pension of] 40% of these workers' salaries is on the poverty line."