Spain's economy contracts by 0.3%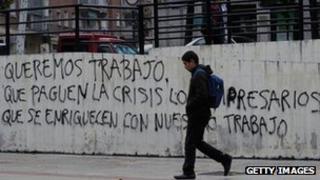 Spain's economy shrank by 0.3% in the last quarter of 2011 from the previous three months, official figure indicate.
The Spanish statistics office also confirmed that there had been zero growth in the third quarter.
It is widely expected that Spain will fall into recession this year, with some analysts warning that the downturn could be prolonged.
The news came as EU leaders gathered in Brussels where talks were set to focus on how to stimulate growth.
The latest figures on Spain were in line with analysts' expectations.
On an annual basis, the economy grew by 0.3%, slowing from the 0.8% growth seen in the previous quarter.
"I don't see any way countries like Spain can avoid recession through the first half of the year at the very least," said Steve Webster, economist at 4cast.
"Politicians in Davos are talking about not just relying on austerity and are talking about growth efforts. But that won't be easy, and so a prolonged recession is the risk."
The Bank of Spain has said it expects the economy to shrink 1.5% in 2012 as the government faces a 22% unemployment rate, meaning low income tax revenues and high demand for benefits.