Davos: US trade chief issues jobs fear warning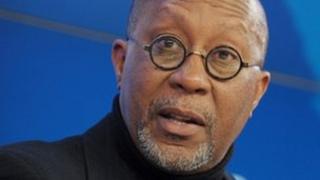 US trade representative, Ron Kirk, has warned the US public increasingly feels global trade costs jobs, making it hard to sell any new world deal.
"More and more Americans... believe that we have swapped jobs for cheaper T-shirts and iPads," he said.
Europe and the US have increasingly turned to bilateral trade agreements.
However World Trade Organisation (WTO) chief Pascal Lamy told a Davos meeting that said bilateral agreements could damage the world economy.
The WTO talks have been stalled for more than a decade because of differences between developed nations and fast-growing economies such as China, Brazil and India.
No support
Mr Kirk said compromise at those talks - where developed and developing countries are arguing over the levels of trade tariffs - would only be possible if the public supported world trade.
"The principles on which the statement 'trade is good for the world' have not been visited for some time," he told a session at the World Economic Forum gathering in Switzerland.
Unless politicians around the world explained why they thought trade would bring jobs and help consumers fight rising prices, then a global agreement could not be reached, he said.
"Than it becomes easier, frankly, to just do something practical [and make bilateral agreements]... rather than continue adding to our balance of trade by signing onto agreements to which the American public believes there's no benefits for us."
Scattered
But the comments appeared to attract criticism from the director-general of the WTO who said such country-to-country deals could be damaging.
He said that in such negotiations the "balance of forces" would lie with the major powers, such as the US, EU and China.
In addition, bilateral trade deals that set special standards - such as vehicle emissions - could fragment the global market, driving up the cost of trade and hurting the economy, he argued.
"At the end of the day, you will scatter the market place with bilateral regulatory regimes which business will not like because its dis-economies of scale, so this is where the problem lies."
US election
Trade, especially with China, has emerged as an important issue in the early stages of the US presidential election.
The US has a massive trade deficit with China, importing goods worth four times as much as China buys from the US.
Republican presidential candidate Mitt Romney has said President Obama has not done enough to tackle China's theft of US patents and wants the country punished as a "currency manipulator".
It is argued that China holds down its exchange rate to make its goods cheaper, hurting US growth and jobs.
The White House has promised the establishment of a trade enforcement unit to tackle unfair practices.
The issue is also increasingly controversial in Europe.
European representative Karel De Gucht told the Davos meeting that the problem was that Europe was increasingly competing with countries such as Brazil, India and China on trade.
"If it were possible to negotiate an agreement between the major developed economies and the Brics, we would get to something, but at this moment in time it cannot be bridged," he said.