Fitch downgrades five eurozone economies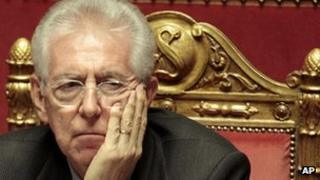 Fitch ratings agency has downgraded five eurozone economies, including Italy and Spain, citing financial weakness during the debt crisis.
Italy was downgraded two notches to A- from A+, while Spain was also lowered two levels to A from AA-.
Belgium, Slovenia and Cyprus were also downgraded, while Fitch cut its outlook for the Republic of Ireland.
Earlier this month, Standard & Poor's agency downgraded nine eurozone economies, including France.
"Overall, today's rating actions balance the marked deterioration in the economic outlook with both the substantive policy initiatives at the national level to address macro-financial and fiscal imbalances," Fitch said.
The agency had placed the five countries on review for possible downgrades last month.
'Further reforms'
Fitch also made a number of comments on the wider eurozone debt crisis and stressed the importance of closer ties between members.
"In Fitch's opinion, the eurozone crisis will only be resolved as and when there is broad economic recovery," the agency said.
"It is evident that further substantial reforms of the governance of the eurozone will be required to secure economic and financial stability, including greater fiscal integration."
European leaders are attending a summit on Monday as part of their continuing attempts to resolve the crisis.
They are looking to forge closer economic ties between member states by agreeing the details of a treaty imposing strict rules on government spending.
They are also trying to agree the details of a permanent eurozone bailout fund, the European Financial Stability Mechanism, to deal with sovereign debt crises in the future.