Cancer charity loses out as bank ends credit card deal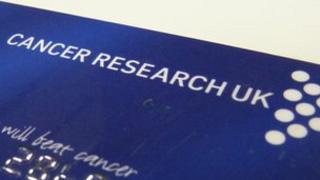 Halifax and Bank of Scotland charity credit cards will be withdrawn from the end of February.
Lloyds Banking Group which manages the card schemes says they are no longer a cost-effective way of donating to charity.
In 2009 the cards raised around £1.1m for Cancer Research UK, the NSPCC and the Scottish SPCA.
The charities say they are disappointed with the decision, but hope to explore other opportunities with the bank.
The Cancer Research UK donation credit card was launched 23 years ago in 1988 and the NSPCC card was first issued 17 years ago.
The Scottish SPCA card has been available for 15 years.
The cards have raised £14.5m ($22.8m) for Cancer Research UK and £500,000 ($786,000) for Scottish SPCA.
Baroness Finlay, vice chair of the all-party parliamentary group on cancer, urged Lloyds Banking Group to think of other ways to help the charities which will lose out:
Speaking to Radio 4's Money Box programme, she said: "The timing of it doesn't seem very sensitive given there's all the furore around bonuses.
"I think a bank which can produce that amount of additional money to give large bonuses has to look very hard at whether it should be giving back to the society on which it depends for its business."
Until now, charities have earned a one-off donation when their associated card is first used, typically around £20.
Then, in a similar way to credit card cash-back schemes, donations are made each time a cardholder makes a transaction - typically between 0.25-0.5% of the total sum spent.
Not cost-effective
One card holder who contacted Money Box is unhappy with the change.
John from Worcester told the programme: "I'm very disappointed because Cancer Research UK is a charity which is very close to my heart.
"My primary reason for having the credit card was that by having the card I was supporting the charity.
"Presumably the money that was being donated will in future be pocketed by Lloyds Banking Group - hardly an example of UK banking showing a more socially-responsible attitude."
Lloyds Banking Group said it was committed to charitable giving, but the charity credit cards had had their time.
In a statement the bank said: "Following a recent review, which noted the limited demand for charity cards in recent years, we have decided that we will no longer offer a charity credit card.
"It was no longer proving to be a cost-effective method of donating to charity."
Just two years ago, the Cancer Research UK credit card won an industry award and was praised by Lloyds Banking Group in 2009 in its corporate responsibility report:
"We won Best Charity Card Programme at the Card Awards in 2010 for our Halifax Cancer Research UK charity card.
"The charity credit card has now delivered £13m in royalty donations to support the great work done by Cancer Research UK to save lives and achieve their vision to beat cancer," the report said.
A NSPCC spokesperson told the BBC: "HBOS has been a supporter of the NSPCC for many years. We have been very happy with our partnership and we are exploring what other opportunities there are for us to work together in the future."
Cancer Research UK said: "While it's disappointing that the partnership has come to an end, we would like to thank all Halifax and Bank of Scotland staff and customers who have supported us over the years."
Scottish SPCA said: "We are disappointed Bank of Scotland have withdrawn their Scottish SPCA charity credit card.
"Our card was widely used by our supporters and the partnership raised more than £50,000 in 2011 and has raised over £500,000 over the past 15 years."
The cards are to be replaced by standard Halifax or Bank of Scotland alternatives.
Lloyds Banking Group said it will remain committed to charitable giving.
Money Box is broadcast on Saturdays at 12:00 GMT on BBC Radio 4 and repeated on Sundays at 21:00 GMT. You can listen again via the BBC iPlayer or by downloading Money Box podcast.