Hornby issues profit warning as Christmas sales suffer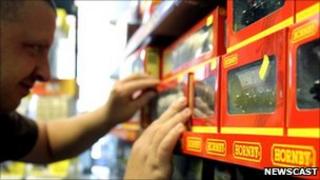 Hornby, the model train and Scalextric maker, has issued a profits warning after sales of its train and slot-car racing sets were hit.
The company said "fragile consumer confidence" in the run up to Christmas had left UK sales below last year.
Hornby, which also owns the Airfix and Corgi brands, said its full-year profits were now likely to be below expectations.
The news hit Hornby's share price, which ended the day down 18%.
However, Hornby said its new London 2012 products were being well-received.
It said it had already taken steps to broaden its product range, focussing on more affordable items, including a range of Corgi die-cast models of commonplace vehicles that will sell at £1.99.
New products for this year include Scalextric Star Wars, and a pre-school range based on a new TV series "Ollie the Little White Van".
Other plans include a range of collectible horse models, aimed at girls and female adult collectors, that will include one based on the popular film and play "War Horse".
It is the second year in a row that Hornby has endured disappointing Christmas trading. Last year sales were held back by the freezing weather.
Hornby's chairman Neil Johnson, said: "It is proving extraordinarily difficult to predict sales accurately in these turbulent markets."
Numis Securities cut its profits forecast for the current financial year by about a quarter to £5m